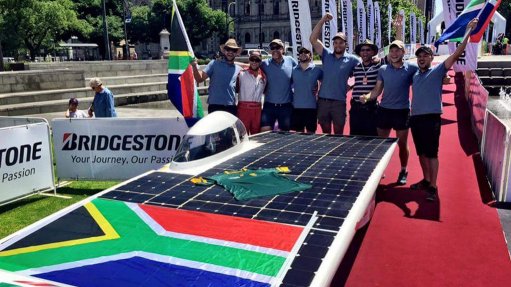 The NWU team's Sirius X25 at the finish line
South Africa clinched eleventh and twelfth spot in the Bridgestone World Solar Challenge, which concluded on the weekend.
It was the first time that an African team entered the race.
Racing teams had to travel 3 022 km from the city of Darwin, in the Northern Territory of Australia, to Adelaide, in South Australia.
The University of KwaZulu-Natal's (UKZN's) solar car, the Hulamin, came in twelfth among the 29 teams that raced in the ultra-competitive Challenger class.
The UKZN team crossed the finish line at 12:05 pm Adelaide time on Friday October 23.
The team completed the race in 47 hours, 53 minutes and 59 seconds of driving time.
First place went to the Nuon Solar Team and second place to Solar Team Twente, both from the Netherlands.
Team Tokai Challenger from Japan came in third.
Both the Tokai and Nuon teams are previous winners of South Africa's Sasol Solar Challenge.

"It was a tough race that required a lot of hard work," says UKZN co-team leader Dr Clinton Bemont. "We were on the go all the time and never had a chance to relax."
The UKZN team named their race car Hulamin in gratitude to the aluminium manufacturing company by the same name, which funded and supported its world solar race ambitions.
The vehicle was developed by a group of engineering students and lecturers from UKZN.
It is five meters long and weighs under 250 kg. It utilises 6 m2 of super-high-efficiency silicon solar panels to harness energy from the sun. This energy can be stored in 21 kg of lithium-ion batteries.
The UKZN team was pipped to the post by their countrymen from the North-West University (NWU), who secured the eleventh position.
The NWU team consists of students, lecturers and a former student.
The team's vehicle, the Sirius X25, weighs 185 kg, and also makes use of 6 m2 of solar panels, affixed to the top of the vehicle.
"It is a dream come true. I can't believe it. We did it!" said NWU team leader Professor Albert Helberg at the finish line.
"Our goal was to be the first South African team across the finish line. We also wanted to be in the top 30% of the field, more or less in positions 10 to 15, and we achieved the eleventh position and that was great."