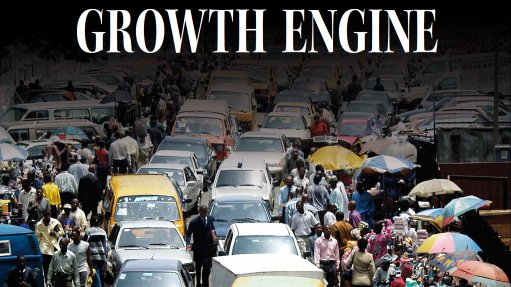 The low oil price has hit Nigeria where it hurts – in the wallet – highlighting the need for Africa's biggest economy to diversify its income sources.
One of the targets of what is called the National Industrial Revolution Plan is to resurrect vehicle assembly in the West African country through the implementation of the New Automotive Industry Development Plan (NAIDP).
Sounds vaguely familiar?
South Africa's Motor Industry Development Plan ran from 1995 to 2012. The same person responsible for overseeing its implementation has played a pivotal role in the NAIDP's implementation in Nigeria – former South African Trade and Industry Minister Alec Erwin.
Retired from public service, he is aiding the Nigerian government's automotive ambitions through his consultancy firm, Ubu Investment Holdings.
His participation in developing another country's automotive industry was first met with scepticism by some members of the South African automotive sector.
They were wary of the ascendancy of a Nigerian industry over their own, still fighting to increase its global significance and competitiveness – these days under a new policy regime, the Automotive Production and Development Programme.
However, the local industry has of late somewhat warmed to the idea of a Nigerian automotive sector, spurred on largely by the inevitability of expanding African industrialisation, as well as by the idea that it will need to be proactive to ensure it can supply a Nigerian automotive sector with assembly kits, components and services.
If South Africa does not react, somebody else will certainly take the gap, warns Nissan South Africa (SA) MD Mike Whitfield. "It is a massive opportunity."
Nissan SA supplies NP300 bakkie assembly kits to a semi-knockdown (SKD) Nissan plant in Nigeria, with Ford Motor Company of Southern Africa (FMCSA) to do the same from October, when a new joint venture will assemble Ranger pick-ups.
Toyota South Africa Motors (TSAM) does not want to provide an update on what was last year described as a viability study on a possible Nigerian assembly facility.
TSAM CEO Dr Johan van Zyl also heads up the company's Africa operations.
The Road Map
Nissan and Ford moved to assembly operations in Nigeria, along with a number of other manufacturers, following the implementation of the NAIDP in 2014,
A core component of the Nigerian automotive programme is an increase in import duties for passenger cars from 20% to 70% (35% duty and 35% levy) and a 35% duty (no levy) for commercial vehicles, as described in an NAIDP information document published in June 2014.
In contrast to this, the duties applied to vehicles assembled locally are set at between 5% and 10% for assembly from SKD kits, and 0% for assembly from the more intricate, labour-intensive complete knockdown (CKD) kits.
As an incentive for local manufacturing, vehicle makers that assemble vehicles locally can import up to twice as many fully built units as they do kits at the reduced import duty rate of 35% for passenger cars and 20% for commercial vehicles.
However, the Nigerian government will not be satisfied with SKD assembly for too long. According to the NAIDP, the maximum time to move from SKD assembly to full assembly is 54 months.
This timeline may produce some challenges, though, as the Nigerian industry has very little in the way of a component manufacturing industry.
AS FMCSA boss Jeff Nemeth states, there are currently no incentives to lure automotive parts suppliers to Nigeria.
He says Ford has been encouraging the Nigerian government to develop a more comprehensive industrial policy, so it may have a fully fledged automotive industry.
He adds that the South African automotive industry could look at the assembly announcement as 'a glass half empty', in that the Ranger used to be exported from South Africa to Nigeria, or as 'a glass half full', with the South African plant at full capacity, and with Ford and its South African suppliers able to grow their footprint in Africa.
The African export market constitutes the only regional loss for South African carmakers this year, showing an 18% decline to 25 512 units in the first six months of 2015, compared with the same period last year.
This is a continued deterioration from the 42 243 units recorded in the first six months of 2013.
The National Association of Automobile Manufacturers of South Africa (Naamsa) says exports into Africa have been impacted on by both regulatory changes in Algeria and import duty increases in Nigeria.
The Market
Global carmakers are targeting the Nigerian auto market as one of the last, vast untapped markets for new vehicles.
According to the NAIDP, Nigeria imported vehicles valued at around $4-billion in 2012, of which a significant 67% were preowned.
The estimated yearly demand for new vehicles is around 100 000 units, with used-vehicle demand at 400 000 units, with many of these vehicles imported from markets abroad.
The NAIDP is targeting this massive used-vehicle market through its duty structure, as well as increased efforts to reduce smuggling.
No vehicle manufacturer wants to compete with almost-new vehicles being sold in the local market at discounted prices.
The NAIDP also targets affordable finance as a means to stimulate demand for new vehicles. With interest rates for vehicle finance set at an average of 22%, most Nigerians prefer to save the entire sum required for the purchase of a vehicle – a practice that favours the cheaper used market.
One estimate is that the new-vehicle market in Nigeria can grow to 600 000 units by 2030, given the population and growing middle class in the country, should the NAIDP succeed in most of its goals.
Drawing up the NAIDP
Erwin was asked to become a member of the Honorary International Investment Council for the Nigerian President in 2011.
"During presentations on their industrial policy, I made the point that, for such a large economy, I was surprised that there was no mention of the automotive sector," he tells Engineering News.
This ultimately resulted in Erwin's company, Ubu, being contracted to the Nigerian government in an advisory role.
Ubu provided advice and facilitated visits to South Africa in order for the Nigerian Customs Authority and Nigerian Automotive Council to better understand how the local auto support programme worked.
The NAIDP that is now on the table is part of a wider industrial revolution strategy adopted by Nigeria, and in line with recent African Union decisions on increasing Africa's industrialisation efforts, says Erwin.
Under this strategy, the Nigerian government wants manufacturing to increase its contribution to gross domestic product from the current 4% to more than 10% by 2017.
"For an economy the size of Nigeria it is essential that they address the key automotive sector, as the importation of all vehicles is structurally unsustainable on their balance of payments," explains Erwin.
"For the original-equipment manufacturer (OEM, or vehicle manufacturer), a market of that size also needs to be serviced effectively.
"In Nigeria's case, the diversification of their economy is very important – as shown by the effects of the recent drop in the oil prices."
With exports from South Africa into the rest of Africa, and especially Nigeria, falling, how can the local industry benefit from a country seeking to increase its automotive manufacturing footprint?
Erwin believes it is important for the local automotive industry to forge close links with any automotive programme currently under development in Africa.
"This is not a simple matter but, at present, there is a national task team applying its mind to the massive potential for such industrial integration in Africa.
"A close examination will show that such industrial partnerships in the auto industry are the norm rather than the exception, such as in South-East Asia, and in Canada, Mexico and the US, as well as Mexico and Brazil.
"The EU also effectively contains an auto partnership. For Africa to miss this opportunity would be tragic."
Erwin adds that not all African countries can develop an auto sector.
Larger economies, such as South Africa, with electricity, logistics infrastructure and a range of supportive measures in the financial sector do have a head start.
While Ubu is not currently assisting any other country in drafting an automotive policy, "it is likely that an Africawide initiative will emerge in the near future", notes Erwin.
Such an initiative will make it possible for African countries to supply one another with parts and vehicles, also exporting these to other global regions, as is the case in Europe.
"This should undoubtedly be Africa's ambition. In effect, it would be taking our place within the complex global auto industry," states Erwin.
National Task Team
The Department of Trade and Industry (DTI) shares this ambition.
"The automotive industry across sub-Saharan Africa is positioning itself to take advantage of an expected increase in consumer appetite for automotives in the region," says DTI automotives director Renai Moothilal.
"Outside of South Africa's entrenched industry, countries such as Nigeria, Kenya and Zimbabwe are looking to revive their own levels of auto production.
"The South African government sees this as an opportunity for the local industry, as international experience has proved that strong regional industrial economies are good for local manufacturing, providing a platform for intraregional trade and economic partnerships.
"To this end, the DTI is leading a process of developing a proposal for automotive-specific cooperation with Nigeria."
Senior officials from the industrial policy development unit, headed by deputy director-general Garth Strachan and including automotive unit officials Mkhululi Mlota and Moothilal, are part of the task team working on this proposal.
The process itself is facilitated by Erwin, and includes "significant engagement" with industry stakeholders such as Naamsa and the National Association of Automotive Component and Allied Manufacturers (Naacam), adds Moothilal.
There is no timeline available yet for the finalisation of a government-to-government automotive agreement between South Africa and Nigeria.
The task team has been active since 2014.
Component Opportunities
Naacam welcomes the DTI's engagement on the development of a Nigeria deal for the local industry, says Naacam adviser Roger Pitot.
Despite challenges such as "old, run-down assembly plants requiring massive investments", the Nigerian government is "serious about redeveloping a proper industry".
Pitot says Naacam is "well aware" that South Africa must negotiate with Nigeria to draw up some kind of cooperative agreement to ensure a win-win for both countries.
"As far as Naacam is concerned, we see opportunities while the components sector is being developed there – which will take many years – for South African suppliers to start up in Nigeria, maybe through joint ventures with local companies," says Pitot.
"There are also huge opportunities for our aftermarket producers to export there. In fact, for several years, aftermarket volumes will far exceed any OEM production."
One of the keys to opening the doors of the Nigerian industry to South Africa, as opposed to other developing countries, will be South Africa's proximity and, ideally, some kind of preferential treatment in return for assistance in establishing the industry there, hopes Pitot.
Many of the South African OEM CEOs are also responsible for Africa, as in the case with Ford, for example, he adds. This should ensure as much cooperation as possible in order to optimise operations and costs.
Naamsa director Nico Vermeulen says the South African vehicle manufacturing industry should work to ensure its involvement in any African assembly plant, where possible, through the supply of assembly kits or components.
He also supports the idea of bilateral agreements, where the local industry could gain some preferential access to African markets, in return for assistance in establishing a fully fledged industry in that country.
"We either become part of a broader African industry, or we get in the back of the queue.
"There is a tangible risk that if we do nothing, other countries such as China, Brazil, Turkey or India will fill the void."