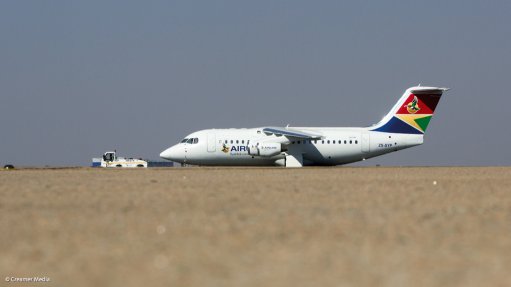 Photo by: Creamer Media
Privately owned airline Airlink said on Tuesday it was disappointed, but respected the Supreme Court of Appeal's decision to dismiss its claim against South African Airways (SAA).
Airlink, which services the southern Africa region, applied to the Johannesburg High Court in January for a declaratory order that would compel SAA, which has been under business rescue since last December, to return R510-million of funds from ticket sales the state-owned airline had collected on Airlink's behalf.
Airlink then approached the Supreme Court after the High Court dismissed its application in March.
On Tuesday Airlink said while it fully respected the Supreme Court's dismissal, "it is nonetheless disappointing and demonstrates that the law is not always just". The airline said it would study the judgement and consider its options.
"It has always been Airlink's firm view that the funds collected by SAA on Airlink's behalf, was never for SAA to keep or spend. However, SAA has been able to hide behind the legal veil of business rescue, to withhold and consume Airlink's money, even though it had no legitimate commercial or transactional basis for doing so," it said.
Under a 23-year-old franchise agreement between the two airlines, Airlink tickets were sold and ticketed through SAA's computer reservations system and SAA was obliged to collect and temporarily hold the funds and pay them over to Airlink in monthly tranches for those tickets flown in the preceding month. Airlink in turn paid SAA for those services.
SAA defaulted on remitting funds for tickets flown last November but owed in December and, shortly after entering business rescue, made it clear it would not honour the terms of its agreement with Airlink.
This prompted Airlink to terminate the franchise with effect from this June and to rebuild its business independent of SAA.
On Tuesday, the carrier said it was now focussed on rebuilding its business which was ravaged by SAA's default and the national lockdown regulations in response to the Covid-19 pandemic that had decimated the air travel and tourism industries.
Airlink recently unveiled a new livery and is in the process of launching and resuming flights on a number of new and reinstated domestic and regional routes across southern Africa.
It has also entered into commercial agreements with some of the world's leading airlines including Qatar Airways, Emirates, Air France-KLM, British Airways and United, which enable it to develop new traffic feeds plugging into the world's biggest global networks.
Last year, Airlink's fleet of more than 50 modern airliners carried two million customers on more than 63 000 flights on 55 routes to 39 destinations in nine African countries and the South Atlantic Ocean island of St Helena.