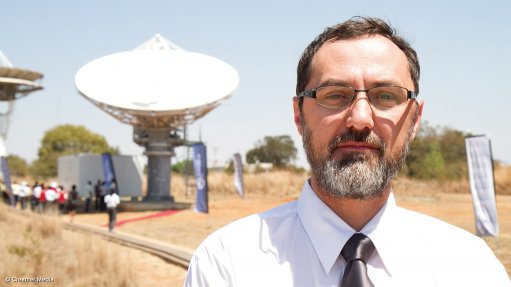 Sansa chief engineer Eugene Avenant
Photo by: Duane Daws
The ever-increasing need for information generated from space requires several satellites to orbit the earth, which subsequently require more antennas worldwide to track and monitor their orbits and functions. This provides an opportunity for South Africa to invest in and develop space programmes and projects.
The most recent project is the South African National Space Agency's (Sansa's) new Ku-band In Orbit Test (IOT) limited-motion antenna, inaugurated last month, which is an addition to Sansa's increasing number of technologically advanced antennas at its Space Operations facility, in Hartebeesthoek, near Brits.
The new R17-million facility, funded by Sansa, comprises a 10 m Ku-direct broadcast satellite band antenna and an equipment room fitted with IOT equipment and infrastructure to assist clients in the successful commissioning of new satellites.
"The new antenna was built in response to increasing demand by satellite owners for ground facilities that are essential to test the in-orbit communications performance of new geostationary satellites," says Sansa chief engineer Eugene Avenant.
Knowledge of space improves the ability to manage and sustain the natural environment and resources. It also increases the mobility of people and products and provides data to deal with health, safety and security.
It also offers instant communications and enables the accurate observation of any location on earth and timeous predictions to deal with economic and human catastrophes.
The benefits of space science and tech- nology range from scientific knowledge and technological know-how to job creation. South Africa's rich tradition in space research, dating back to the 1950s, has positioned it as an active participant in the global space arena and a country with unique space infrastructure.
Space science and technology is one of the five major challenges of South Africa's ten-year Innovation Plan. The country's space landscape is guided by a national space policy and strategy, which define the outcomes of the National Space Programme, with a focus on space-based services and applications.
The space strategy aims to capture a global market share for small to medium-sized space systems to help establish a knowledge economy and promote innovation and industrial competitiveness. It also aims to integrate space-based systems with ground-based systems to improve decision-making using timeous and accurate information. The strategy also promotes the use of space science and technology to develop applications for geospatial, telecommunications, timing and positioning products and services.
Space Operations
The Sansa Space Operations facility manages and maintains more than 20 antennas and several ground stations at Hartebeesthoek. This includes nine full-motion telemetry, tracking and command (TT&C) antennas, five remote-sensing systems across all frequency bands and in an S-band for mobile support.
Hartebeesthoek offers continuous support to satellite launches worldwide. The antenna systems are located at 32 secured locations on the 2 890 ha site and are available in L, S, C, Ext C, X, Ku, DBS and Ka frequency bands, as well as in S-band mobile support. Seven of the 19 antennas are full-motion TT&C antennas.
Staff members of the TT&C group have been responsible for the construction of most of the infrastructure of the antennas and ground stations at Hartebeesthoek, with assistance from overseas clients, where necessary.
In 1997, new 13.2 m Ku/DBS-band and 13.2 Ka-band antenna systems were installed in a record time of nine months, which included all the civil, mechanical, electrical and electronic systems, to track the launch of Bonum 1, for which the TT&C staff received on-the-job training.
In 2008, the X-band capabilities dedicated to earth observation data reception at Hartebeesthoek were upgraded with the installation of a new 7. m X-band antenna.
Work at the Sansa Space Operation facility comprises applied research, development and innovation in key space operations and applications, spacecraft launch, life-cycle, emergency, TT&C and transfer orbit support, as well as IOT-hosting and carrier-monitoring services. It also includes systems and radio- frequency engineering; continuous project management and maintenance; as well as antenna and ground-station installation, including the procurement, import, logistics, soil-testing, civil, electrical, heating, ventilation and air-conditioning works.
Construction, integration, acceptance testing and commissioning also form part of the functions performed at the facility.
Earth Observation
Sansa's Earth Observation centre, in Pretoria, coordinates South Africa's earth observation efforts for the sustainable benefit of all South Africans in an earth-friendly manner. The activities are aligned with the South African Earth Observation Strategy and related international initiatives. Its objective is to collect, assimilate and dis- seminate earth observation data to support South Africa's policymaking, decision- making, economic growth and sustainable development initiatives.
Earth Observation provides services for socioeconomic benefit, including environ-mental, resource, disaster, health and safety, as well as security management; data and value-added remote-sensing services for earth observation research and develop- ment; as well as human capital development and science advancement in geoinformatics, image and data processing and remote sensing.
A key component in remote sensing is image processing. Raw satellite images need to be presented in a usable and meaningful format before various remote-sensing tasks can be performed on the images. Image-processing algorithms are usually executed on raw imagery to produce meaningful products. Typical tasks, such as image enhancements, atmospheric corrections, pan-sharpening and orthorectification, are usually performed on raw imagery.
In the last few years, the amount of data received from various sensors has increased drastically, resulting in the need for automated processing chains for the above tasks to distribute the data out timeously.
One of the key tasks of the Sansa Earth Observation directorate is the development and improvement of these automated processing chains to accelerate production and ensure the accuracy of the delivered satellite image products.
Space Science
South Africa is the only African country with a scientific base in Antarctica and the country is ideally located for the study of the South Atlantic Magnetic Anomaly – an area where aircraft, ships and satellites are exposed to increased radiation from space, which leads to the interruption of and damage to communication systems.
Sansa's Space Science facility, in Hermanus, in the Western Cape, runs a Space Science Programme, which is a key player in the South African National Antarctic Programme. It has several ongoing space science and space weather-related projects in Antarctica, as well as at Marion Island and Gough Island.
The Space Science Directorate of Sansa is host to the only space weather centre in Africa, which provides early warnings and forecasts on space weather activity. The centre, therefore, plays an important role in protecting satellite technology, communication and navigation systems.
As the centre forms part of the worldwide network of magnetic observatories, it is responsible for research, infrastructure and data to monitor the near-earth space environ- ment. The activities include fundamental and applied space-physics research, post- graduate training, science advancement, space-weather monitoring and providing geomagnetic field-related services on a commercial and private basis.
Space Engineering
Sansa Space Engineering leads space system and subsystem development activities. Its efforts are aligned with South Africa's strategic drive to become self-reliant in terms of its satellite system development capabilities, unique technologies and related skills to create a technology base for the industry and promote initiatives in advanced manufacturing technology.
The objective of space engineering is to be efficient in the technical development of space systems and subsystems and to provide satellite assembly, integration and testing services; satellite systems and subsystems coordination and development; as well as human capital development and science advancement in space engineering. A further aim is to create an environment conducive to industrial participation in satellite system and subsystem development.
Sansa points out that South Africa is in an ideal position to assist satellite operators in qualifying and commissioning their new satellites, as the country has a relatively radio-quiet environment and a good geographic position.
Meanwhile, Sansa is also undertaking the construction of South Africa's third satellite. To date, R372-million in funding has been secured for this project, with the total project value, excluding the launch, expected to reach R450-million. The launch could cost another R180-million, says Sansa acting space programme manager Shravan Singh.
The construction of the satellite, which will be launched in about four years' time, is being funded by the Department of Science and Technology. The earth observation satellite will be different from the previous two test satellites, which were technology demon- strators. The new satellite will have a clear primary mission, secondary missions and ancillary missions similar to international earth observation satellites, he explains.
The new satellite will be used to take pictures of the African continent that are vital for food security, land use and disaster recovery. A dedicated satellite is important as it makes the African continent less dependent on the rest of the world with regard to procuring this information, says Singh.