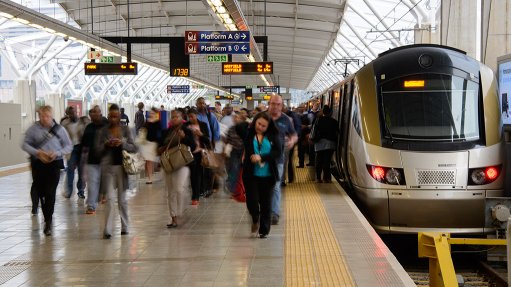 DEFINED STRATEGY Defining a strategy for public transport services prompted the public and private sectors to initiate several public transport infrastructure projects in recent years
Despite the current project affordability constraints, South Africa has made exponential improvements in progressing its public transport projects, says professional services firm KPMG.
"There is increased awareness of the absolute need for better public transport," stresses KPMG infrastructure advisory head of global infrastructure major projects De Buys Scott, further highlighting that key project achievements include defining a proper strategy for public transport services.
He adds that this is what prompted the public and private sectors to initiate several public-transport infrastructure projects in recent years.
"For a developing country, the key achievement is recognising the shortcomings in the public-transport system and addressing them," Scott further emphasises.
Key transport project milestones include the Passenger Rail Agency of South Africa's (PRASA's) R53-billion passenger fleet refurbishment and replacement programme, the programme to refurbish and replace PRASA's ageing infrastructure, the completed and ongoing implementation of bus rapid transit (BRT) systems across the country, as well as the Gautrain's extension-feasibility study to investigate expansion areas for the rapid passenger rail system.
Flagship Support
The Gautrain and PRASA projects are key flagship projects in which KPMG is currently involved.
The company is assisting PRASA with the requirements and studies needed for the rolling stock, technical depot, station and testing facilities, and the Gautrain with its fleet-expansion project and extension- feasibility studies, as well as the sourcing of potential alternative revenue.
Scott believes that KPMG's ability to assist with these projects was underscored by the company being awarded the 2015 Global Financial Adviser of the Year by infrastructure news and resource centre the Infrastructure Journal, in its yearly Global Awards for Excellence, which took place last month.
PRASA Potential
Scott maintains that the PRASA investment will play the most significant role in accommodating South Africans in public transport.
"PRASA's passenger fleet refurbishment and replacement programme, when completed, will provide double the transport capacity at double the speed in a safe environment, thereby creating a material improvement in the system."
The agency's current fleet, which has reached the end of its design life capacity, will be replaced by new, faster and more reliable trains. These will be procured from France-based transport company and original- equipment manufacturer Alstom.
The first trains are expected to be delivered and commissioned by the second half of 2016. Up to 3 600 new train units will be deployed in the next ten years.
Scott says the refurbishment of the Metrorail system will also provide those with a higher living- standards measurement with an alternative to private car use, which might reduce the use of private- and public-vehicle road transport.
Long-Distance Consideration
Scott further highlights the need for the public sector to seriously consider improving long-distance passenger train systems in South Africa.
"Systems like the Shosholoza Meyl – PRASA's long-distance passenger rail services division – need to be investigated for a sustainable business model," he suggests, adding that after defining the model, a feasibility study and procurement roll-out should follow.
The Shosholoza Meyl currently operates various train routes across South Africa, carrying about four-million passengers a year. Long-distance services are currently also supported by long-distance bus services for intercity and interprovince transport requirements.
Scott reiterates that public transport remains a significant catalyst "for changing mindsets and driving investment into more robust and enabling infrastructure for the country", adding that the correct passenger and freight transport projects and programmes are currently under way in South Africa.
"However, we need to appreciate the time required for these projects to be properly bedded, and we need to be aware that they must be monitored, periodically evaluated and amended accordingly."
These actions are mandatory, as several of the projects are greenfield investments for South Africa, he adds, further suggesting that South Africa can advance the development of its transport systems by drawing from other global initiatives – specifically those in other developing countries – in terms of what worked better and what lessons were learnt.
"As long as there is an open mind to other possibilities and efficiency enhancers, South Africa is on the right track," he concludes.