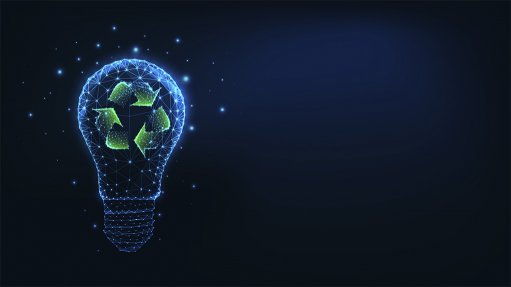 South Africans know there is no turning back the dial to 'business as pre-pandemic usual' but a sense of being powerless has darkened the country, as the power core of the economy disintegrates in front their eyes. Will the nation cower in the dark or is there a dial it can turn to reconnect with a new centre of energy, asks Professor Lwazi Ngubevana, Director: African Energy Leadership Centre (AELC) at Wits Business School.
He notes that the country is in full energy crisis mode as without a functional Power/Energy sector, it does not have an economy. The only way in which we can dig ourselves out of this hole is to fast-track the Integrated Renewable Energy Programme (IRP), he says. "This is a crisis that we should not waste. We may be backed into a corner but we have to innovate our way out of it."
Making new markets to make available new alternatives
His view is that everything should be done differently to get the right renewable energy projects on stream earlier than the current financial close out periods that can take up to five years, as in the case of the recently announced 100MW Redstone Concentrated Solar Power (CSP) project. "We cannot allow these protracted timeframes and must apply new ways to finance these crucial power providers," he says.
Why are we not trading power between consumers, turning them into prosumers to create a competitive market, he questions. While the announcement by HE President Cyril Ramaphosa regarding the decision to amend Schedule 2 of the Electricity Regulation Act and increase the licence-exemption cap on self- or distributed-generation plants from 1 MW to 100 MW is to be lauded, it remains unclear how this decision is aligned to the IRP.
It also remains unclear how the permit process through NECSA will be expedited to avoid a backlog of projects that cannot connect to the grid. Ngubevana explains that grid connection and wheeling agreements are still the purview of Eskom and the municipalities. "Knowing that corruption is rife in South Africa, how do we ensure that this does not become fertile ground for greasing palms? This remains unclear."
He further considers one of the concerns with the IRP to be its placement of artificial limits on renewable energy projects and forecasts that this approach is creating a second emergency. "We should be letting markets decide while we do away with such limits and get renewables on stream quicker," he says.
Imminent opportunities to green Mzansi's economy
We need a new alternate market, he adds as he emphasises that South Africa has a huge opportunity should it enable a green hydrogen economy. Forget trying to sell energy to municipalities but apply blockchain technology through projects such as those seen in Australia, Japan, and South Korea.
He explains: "Hydrogen burns clean and as such, would have a measurable impact in decreasing carbon emission levels. The energy source presents additional energy-to-economic stabilisation opportunities such as desalination and if we were to tap into these, the scale for advancement would be limitless."
Not only would pricing in Europe for green hydrogen fetch a premium for the country but it could put us on the path of realising hydrogen vehicles. The rest of the world is on an accelerated decarbonisation trajectory. South African products will soon lose market access if we do not follow suit and decarbonise our economy rapidly.
In addition green hydrogen brings with it the opportunity to boost South Africa's struggling Mining industry. "Now is the time, he says to stabilise sustainable energy supply on the continent as Africa needs energy to grow albeit that on this continent-wide scale, progress depends on political and business leadership. These are two contingencies that we need to get steering in a safe direction."
Imperative to spark to life new African energy leaders
Ngubevana believes that as Africans, we need to take stock of what we have as Africa and that it is critical for us to be cognisant of our potential.
A vision for the continent's growth is required together with a plan on how we would use existing resources to achieve this vision. "Currently a more coordinated regional and continental wide point of view is non-negotiable. Enablement of an agreed vision may necessitate political intervention because if you cannot guarantee political stability, you cannot guarantee investment," he says.
One of the make or break factors is whether energy leaders have earned their social license to operate. He notes that the Energy space requires professionals who can speak to social impacts and understand how to deal with societies, as none of these projects will work if we do not have a mutually respectful license to operate in societies.
The upside of earning the trust and partnership of the aligned societies is that the Power/Energy sector is so broad that it opens up opportunities for everybody from the legal side to contracting professionals through to project management professionals. Its value chain holds exceptional growth opportunities but he reminds us again, that to empower all stakeholders, we need a vision as to where we want to be to secure collective growth.
Securing a focus on sustainability through leadership
The objective of sustainability is for people, planet and profits (the so-called 3 P's) to synergistically work together. Both the Postgraduate Diploma and Master of Management in the field of Energy Leadership provided by the AELC at Wits Business School are centred around this goal.
Under the leadership of Professor Ngubevana, these new curricula talk to sustainability as a whole, decarbonisation and a mutual systems thinking and approach to the Energy sector. The specialist programmes are not only tailored for engineers but provide leadership growth for professionals from every field. "There is no better time than now. The time has come to power our economy by developing the next generation of Energy leaders in South Africa and Africa," concludes Ngubevana.
Apply now for the Postgraduate Diploma or Master of Management in the field of Energy Leadership from Wits Business School, the first specialist postgraduate programmes of their kind on the African continent. Learn more here.