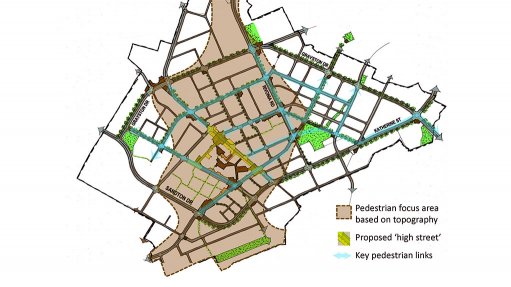 ECOMOBILITY IN JOBURG The EcoMobility Festival promotes the use of public transport and encourages citizens to imagine and embrace alternative means of moving goods and people
Addressing the province on behalf of the Gauteng provincial government, Gauteng Premier David Makhura on October 4 welcomed the launch of Johannesburg Streets Alive: the EcoMobility World Festival 2015, in Sandton City, Johannesburg.
The festival took place during Transport Month, which promotes the use of public transport and encourages citizens to imagine and embrace alternative means of moving goods and people, including nonmotorised transport such as walking, cycling and biking.
"We want to restore the dignity of walkers, runners, bikers and cyclists on our streets," said Makhura, giving particular thanks to the International Council on Local Environmental Initiatives for bringing the 2015 EcoMobility World Festival to Johannesburg.
He urged public officials, private-sector executives and civil society leaders to support the EcoMobility Festival and other initiatives that seek to promote the use of public transport and opt out of the single-car mode of mobility.
"Public and nonmotorised transport promote social cohesion and the preservation of the environment by reducing the country's carbon footprint," said Makhura, highlighting the importance of public transport and reiterating his support for the city's idea to integrate Alexandra and Sandton City. He also emphasised the need to make public transport and nonmotorised transport a matter of choice and lifestyle.
"During the month of October, I will be using public transport from Midrand, where I live, to the Johannesburg central business district (CBD), where my office is. I will also use the Gautrain and bus rapid transit systems in Johannesburg and the Tshwane CBD," he added.
Makhura stressed that Transport Month was an opportunity for the city to remind itself of the obligation it has to build an ecofriendly public transport system that focuses on mass transportation instead of individual transportation, as well as privileging nonmotorised forms of transportation.
He reiterated that investing in public transport infrastructure is one of the priorities and pillars of government's programme for radical transformation, modernisation and reindustrialisation, adding that a modernised, safe, reliable, affordable, integrated, intermodal and environmentally sustainable public transport system is the cornerstone of an inclusive and sustainable future.
Makhura also noted that, as part of driving the agenda for ecofriendly transformation, motorbikes and other nonmotorised equipment should be manufactured locally – "in our country and in our province" – through clean and green technologies to boost green reindustrialisation wherever possible.
"We all know that an accessible, reliable, modern and efficient public transport system is central to our ongoing endeavours to promote social and economic inclusion, as well as to break decisively with apartheid special planning patterns.
"We therefore take this opportunity to urge the people of Gauteng to embrace and support the necessary shift from an unsustainable single-car mode of transport to an EcoMobile city," concluded Makhura
.