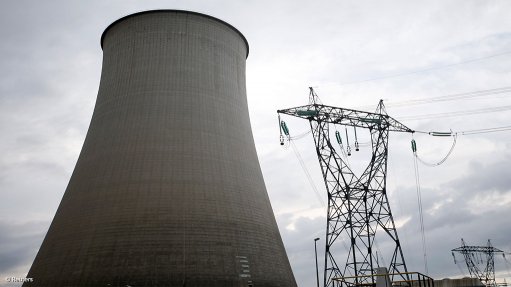 Photo by: Reuters
Russian State-owned nuclear group Rosatom has reaffirmed its respect for South Africa's domestic policy debates and decisions. "We respect South African government processes and decisions," Rosatom International regional VP: sub-Saharan Africa Viktor Polikarpov told Engineering News Online on Tuesday.
"The new [South African] Integrated Energy Plan has been published for public discussion and that is now under way," he noted. "We are expecting debate in South Africa and we are looking forward to its outcome."
"As a potential nuclear vendor to South Africa we remain very interested in bidding [for a new nuclear energy programme]," he stated. "But we can't comment on government decisions."
Rosatom's interest in South Africa is not restricted to bidding for new nuclear power plants (NPPs). Group subsidiary Tenex has been supplying South Africa's electricity utility Eskom with nuclear fuel – for the Koeberg NPP – for 20 years. The contract expires next year and Tenex will be tendering for the new contract.
Neither is Rosatom's involvement in South Africa restricted to energy. "South Africa has long been involved with nuclear [technology]," he pointed out. "We're very keen to work with Necsa [South African Nuclear Energy Corporation]. We have ordered some components from Necsa."
Rosatom's first Generation III+ reactor is now fully operational, and has been connected to the Russian grid since August. It is located at Novovonorezh, and has the designation VVER-1200.
VVER is the Russian equivalent to the American pressurised water reactor, or PWR. The basic VVER design was developed some 40 years ago and it has proven to be very reliable, accumulating more than 1 400 years of reactor operation.
"We believe it [VVER-1200] is one of the safest reactors in the world," assured Polikarpov. "It automatically controls itself in an emergency. It has, for example, a 'core catcher' should a meltdown occur. It is very, very safe."
Other VVER-1200s are under construction or planned, and not just in Russia. One is being built in Belarus. And Rosatom has signed an agreement to build four in Egypt. It has also signed an agreement to build NPPs in Nigeria, but that project has been slowed because of the economic downturn in that country.
"We're replicating this technology the world over," he highlighted. "We have been contracted for 42 reactors to be built using this technology, around the world."