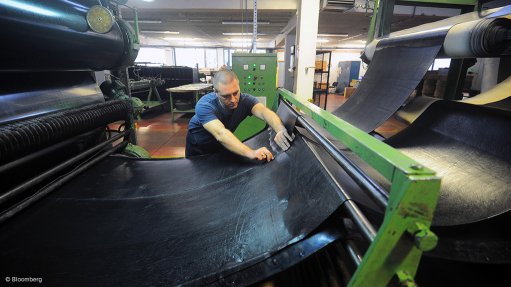 INDUSTRY SURETY Transvaal Rubber Company secured business worth about R150-million for 2015
Photo by: Bloomberg
Rubber manufacturing specialist Transvaal Rubber Company (Truco), which recently celebrated its 120th year in the industry, has already secured business – including projects and contracts in the supply of rubber hose, belting and sheeting in the general and mining industries – worth about R150-million for 2015, says Truco MD John Tait, who tells Engineering News that the company is confident it can secure more projects that are currently in the pipeline.
"Business in 2015 includes two significant orders for the mining industry in West Africa, to which we will supply rubber hose for slurry applications and textile-reinforced rubber conveyor- belt products," adds Tait. These projects are expected to be complete in March and April.
Amid the increasing demand for a single solutions provider, for general piping needs, Truco invested in a new fittings division last month.
"Our plans for the year also include promoting the new fittings division, as it complements Truco's products and provides a single solution for the mines in terms of all their specific rubber hose and piping product needs. Paired with the fittings division, we launched our new range of Camlock fittings last month to complement our rubber and polyvinyl chloride (PVC) hose ranges.
"We also aim to aggressively target the conveyor belt market, as the product is priced competitively and, with our on-site stock, Truco can also provide shorter lead times," Tait highlights.
Fittings and Couplings Agent
Last month, Truco was appointed as the official African distributor for mechanical pipe joining solutions producer Victaulic, whose product range includes grooved fittings and couplings.
Truco offers customers in the marine, mining and general industries the complete Victaulic offering – comprising more than 16 000 products – ranging from plain-end high-density polyethylene (HDPE) couplings to standard grooved, rigid and flexible couplings and grooved Quick-Vic installation-ready couplings for all types of steel piping.
Tait explains that this is an advantage for the company, as many customers, particularly mines, specify a Victaulic stub-end for the rubber hoses as a requirement.
"As part of its International Organisation for Standardisation (ISO) 9001 system, and because it is a vertically integrated company, Victaulic has full traceability of the manufacturing of all our products. We, therefore, offer extended warranties on our products on a project-by-project basis."
The company will from April hold critical stock of Victaulic grooved, shouldered, HDPE and Vic-Press piping products to ensure quick delivery and immediate availability.
Further as part of its strategy "to stay on top of the game" and to deliver a quota product, the company refurbished its factory in Chamdor, Krugersdorp, in December, to meet and exceed ISO 9001:2008 standards.
According to Tait, owing to the 2014 strikes in the metal and platinum industries, both sectors, particularly the mining industry, are facing a tough time. As a result, the demand for rubber product supply is significantly lower than in previous years. He predicts that, with a lack of projects to sustain the entire rubber-manufacturing industry, and with local mines focusing on cost reductions, there might be company consolidations this year to mitigate current conditions.
"Nevertheless, we are seeing decent growth in the rubber sheeting, hose and conveyor belt divisions, owing to our customer focus and ability to work closely with our clients in meeting their specific needs. The rubber industry still sees yearly growth, as people continue to use rubber in industrial applications, owing to its longevity and versatility, Tait concludes.