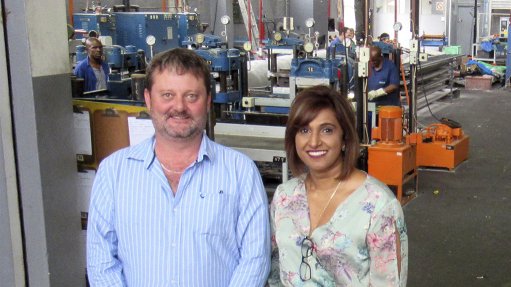 WAYNE TOZER AND SUE SUPASAR RPM has performed well after the 2019 takeover, following a series of strategic adjustments to operating costs.
Rubber manufacturer Rubber Products and Mouldings (RPM) is "very bullish" about the year ahead, with the company poised for growth despite the difficult economic circumstances because of ongoing lockdowns.
"The economy is not strong, so it certainly won't be easy for any business. However, RPM has a strong team of people who are well positioned to ensure that the company continues its upward trajectory," says RPM director Wayne Tozer.
The 65-year-old RPM business was acquired in 2019 by Tozer and RPM director Sue Supasar, who jointly turned the company around to become profitable. The business is now a Level 2 broad-based black economic-empowerment company, and majority black female owned.
The company performed well after the takeover, following a series of strategic adjustments to the operating costs.
Coinciding with the takeover was RPM's expanding its role in the rubber sector by securing a sole distributorship agreement for sub-Saharan Africa with UK rubber compound manufacturer Hexpol. The agreement enables the company to access a full range of roller and linings compounds from Hexpol.
"We are bringing in Hexpol's high-quality compounds because this is the space we have decided in which to operate. We have so far brought in a range of roller compounds that have been used in the market with great success. We are now looking at bringing in specialised linings compounds," Supasar says.
RPM received its first shipment from Hexpol in 2019. Since then, the company has been receiving regular shipments and continues to place regular orders.
Supasar says although RPM has supplied products into Africa, this market will receive greater attention as part of RPM's strategic imperative for the next 12 months.
Expansions
Before the takeover, RPM was a supplier of rollers for more than 40 years and, prior to that, had manufactured the rollers in-house, but the production was outsourced over time.
Supasar noticed when she became involved in the manufacturing division of RPM that the potential existed to reintroduce the manufacture of roll covers in-house.
After the takeover, a new roller business – RPM Rollers – was established in 2019 as a sister company to RPM, to ensure that roller manufacturing returned to RPM.
Equipment used in the production of existing products was suitable for roll-cover manufacture, while investments were made in roll covering equipment.
"A decision was taken to use cylindrical roll grinders as the preferred finishing equipment to ensure that we offer our customers the best-quality finish available," she says.
The company bought two cylindrical grinders. One is used for smaller roller lengths to meet printing-industry requirements, among others, with roller covers of up to 2 m in length. The larger cylindrical grinder meets the requirements of other industries, including the packaging, plastics, textile and steel sectors, which require roller covers larger than 2 m.
"This equipment was not easy to source and came with a high price tag, but we decided that we either do it properly or not at all," Tozer quips.
"RPM Rollers continues to grow. We are reviewing capacity with a view to increasing, and we are working on a few new products," Supasar reveals.
Increased capacity is also being achieved at RPM by implementing shifts. Additional employees have been employed to facilitate this.
The company has also produced a new rubber saddle product that is used in the transportation of the steel coils on heavy duty trucks. The first 12 trial saddles had been delivered to a key customer in July last year, after which 300 saddles were supplied during the six months thereafter.
"This product is produced on a moulding machine that had not been used in ten years. The product was previously imported from India, so we have managed to bring the manufacturing thereof back to South Africa," Supasar adds.
Meanwhile, RPM is installing an additional press to increase the production of truck mudflaps. The expansion of this production capacity will be completed by the end of this month.
The mudflaps, along with rubber skids, which are now manufactured locally at the company's Maitland facility, in Cape Town, were previously imported.
"We have also locally produced a rubber grommet that was previously imported by one of our RPM Rollers printing companies. Using our rubber technical expertise enabled us to adapt the rubber on one of our standard grommets to satisfy our customer requirements," Tozer boasts.
The company's retail shop, which is a cornerstone of the new business model, has also expanded and includes products such as grommets, ferrules, mountings, car parts, boat rollers, plugs, sponges, extrusions, rubber sheeting, mats and bungie straps.