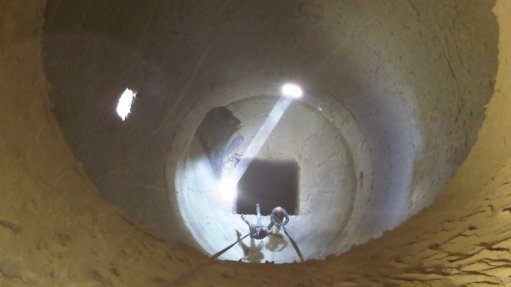 TOTAL-SOLUTIONS APPROACH To perform the inspection of the cyclone, the Skyriders team had to gain access to the ducting from the top, at a height of 30 m
Using rope access, inspection company Skyriders Access Specialists overcame height challenges, as well as confined-space and limited-access options, to conduct critical routine inspection of a cyclone at a Northern Cape-based cement producer.
The inspection project, which took place over two days as part of a routine maintenance shutdown in May, focused on the mill area, where a small cyclone in the middle of a narrow ducting – with an outer diameter of just 600 mm – meant that the four-person Skyriders team had to gain access to the ducting from the top at a height of 30 m. "Access had to be gained from this approach as there was no manoeuvring space within the cyclone," explains Skyriders inspection manager Gerhard Kemp.
The team – comprising trained rope-access inspection technicians qualified in confined-space work and various nondestructive testing disciplines – assessed the general condition of the cyclone, taking note of wear areas, damages, indications of loose material, and air leaks. This included visual inspection of the welds and wall thickness, as well as the integrity of the steel linings. A magnetic particle inspection technician was also on hand to verify the quality of any welding work that might have proven necessary.
Rope access only allowed partial access to the cyclone, however, and a manhole-sized access hole also had to be made just below the cyclone to allow full access to the required inspection area. "The benefit of this is that it provides easy access for subsequent inspections," highlights Skyriders marketing manager Mike Zinn.
Kemp notes that the inspection revealed some minor wear in the cyclone, as well as a small hole in a bend of the ducting. Importantly, the Skyriders team pinpointed the problem area, which enabled the client to open up the cyclone externally at the exact location for repairs. This problem could not have been detected from outside the ducting, owing to the presence of cladding and lagging. "Using rope access for an internal inspection was the most efficient means possible in terms of manpower and resources."
Skyriders also provided a detailed report on the outcome of the inspection process, providing baseline information that can be compared with the outcome of subsequent inspections. Zinn explains that this will enable the client to determine wear patterns in the cyclone and pinpoint the causes of wear, which will facilitate planning in terms of maintenance and repairs.
"Time is of the essence with such a shutdown, where even one hour offline has a major impact on the bottom line. "Therefore, our reports are critical to give our clients the clearest view of what is required," Kemp points out.
Skyriders carried out the inspection work during the night shift to minimise disruption. "This was a prime example of the customised, total- solutions approach that under- pins all our projects," concludes Zinn.