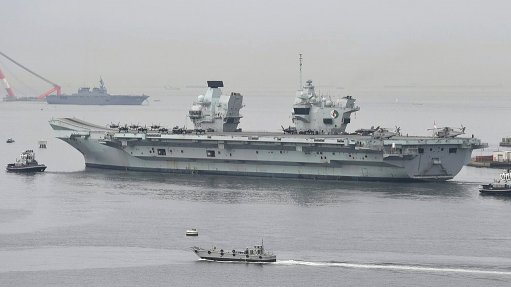 HMS Queen Elizabeth departing Yokosuka, Japan, last month
Photo by: Government of Japan
UK-based global major industrial technology group Rolls-Royce on Wednesday highlighted its eagerness and ability to help the Indian Navy adopt integrated full-electric propulsion (IFEP) for its future warships. The company is the only producer of marine gas turbines that are integrated into IFEP systems, used to power aircraft carriers and destroyers. The Indian Navy operates both these categories of warship.
"Rolls-Royce is well-positioned to partner India for the modernisation of its naval fleet with the right mix of products, experience and capabilities to design, build, deliver and support customised naval systems and solutions," highlighted Rolls-Royce Chief of Naval Systems Richard Partridge. "Our technologically superior offerings and expertise provide the ideal solutions for developing integrated hybrid-electric and full-electric propulsion for naval vessels, including the integration of the MT30 [gas turbine] that brings the most power dense gas turbine to these next generation warships."
The MT30 marine gas turbine is rated at 36 MW and is in operational service onboard the UK Royal Navy's two Queen Elizabeth-class (QEC) aircraft carriers (HMS Queen Elizabeth and HMS Prince of Wales), as well as in ships of the US Navy, the Republic of (South) Korea Navy, the Japan Maritime Self-Defence Force and soon the Italian Navy. It has also been selected for installation in future British, Australian and Canadian warships.
Each QEC aircraft carrier has two MT30s, which are coupled with alternators (supplied by GE Power Conversion) and generate electricity to power the four electric motors that actually drive the ship's screws (propellers). (Each ship also has four Wartsila diesel generators, each rated at 10 MW, which generate electricity for the motors when the ship is running at cruising speed or less.) When the MT30s are running, they can drive the carriers, each of which displaces 65 000 t, at speeds in excess of 25 knots (nautical miles per hour), or more than 46 km/h.
With HMS Queen Elizabeth currently in the Indian Ocean (after a period in the Pacific) heading a carrier strike group, and due to visit India, Rolls-Royce is planning to use the British ship to showcase the MT30 and the company's wider capabilities to the Indians. "HMS Queen Elizabeth visiting India is one of the finest examples of technological excellence in naval warfare," affirmed Rolls-Royce SVP: Defence, India and South East Asia Abhishek Singh. "We are looking forward to familiarising our Indian customers with Rolls-Royce's capabilities aboard this majestic warship and to explore areas for collaboration to further strengthen the might and range of the Indian Navy."
"As India envisions the fleet of the future, our commitment to support the country's defence modernisation and self-reliance goals remains as strong as ever," assured Rolls-Royce president: India and South Asia Kishore Jayaraman. "The carrier strike group tour is a significant opportunity for Rolls-Royce to showcase the results of decades of innovation in naval power and propulsion."