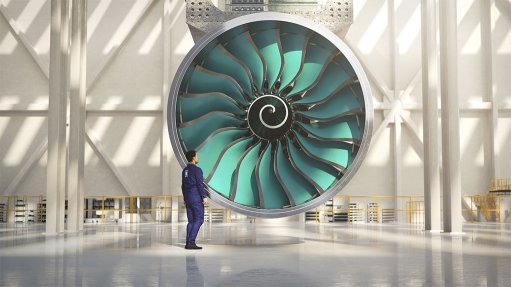 An artist's impression of the UltraFan
Photo by: Rolls-Royce
UK-based global industrial technology group Rolls-Royce reported on Monday that it had formally started making the biggest aeroengine in the world, the UltraFan. This is intended to be the basis for a new family of engines that would power both single-aisle and widebody airliners and would provide a fuel efficiency improvement of 25% compared with the first generation of the company's Trent engine family.
The assembly of the first module of the new engine had commenced at Rolls-Royce's DemoWorks in Derby, in the UK. This first, demonstrator, UltraFan, would be finished by the end of this year.
"This is an exciting moment for all of us at Rolls-Royce," affirmed group president - Civil Aerospace Chris Cholerton. "Our first engine demonstrator, UF001, is now coming together and I'm really looking forward to seeing it built and ready for test. It is arriving at a time when the world is seeking ever more sustainable ways to travel in a post-Covid-19 world, and it makes me and all our team very proud to know we are part of the solution."
The UltraFan is a geared turbofan design, to deliver power efficiently, and it will have a fan diameter of 140" (nearly 3.56 m), a diameter big enough for a London Underground train to run through. It will be fitted with a new yet already proven core architecture, designated Advance 3 by Rolls-Royce. It will also have the company's Advanced Low Emissions Combustion System (usually referred to as ALECSys), which will maximise fuel burn efficiency and minimise emissions.
Its fan blades will be made out of carbon titanium and its casing from composites. This will cut weight by 1 500 lbs (just over 680 kg) per aircraft. To ensure that they operate more effectively in high pressure turbine temperatures, a number of components will be made from advanced ceramic matrix composite materials. The UltraFan will be able to run on 100% sustainable aviation fuel.
Once complete, it will be subjected to thorough ground testing in Rolls-Royce's new Testbed 80 facility, which can collect data from more than 10 000 parameters, at a rate of up to 200 000 samples per second. Once ground tests are finished, it will be tested in flight on an adapted Boeing 747-400, acquired from Australian airline Qantas to act as a testbed for the new engine. The date for the start of flight testing will be determined after the completion of ground testing.
The development of the UltraFan has been supported by the UK government (through the Aerospace Technology Institute and Innovate UK), the German government (through the Luftfahrtforschungsprogramm or LuFo air transport research programme) and the European Union (EU – through the Clean Sky Joint Undertaking). "I am delighted that the UK and German governments have supported us in making these significant ground-breaking technology investments," said Cholerton. "The Aerospace Technology Institute and LuFo programmes, as well as the EU's Clean Sky, have all helped bring us a step closer to realising the enormous environmental and economic benefits of UltraFan."