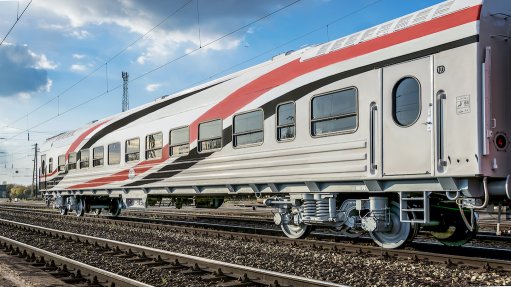 Rolling stock manufacturer TMH Africa has signed a three-year contract to supply bogies for passenger rail applications in Egypt.
TMH Africa CEO Jerome Boyet says the contract was signed during the Covid-19 lockdown period, which highlights the company's resilience despite the setbacks caused by the pandemic.
He says the contract is a positive contribution to inter-African trade relationships, while also serving to showcase TMH Africa's highly-exportable skills and capacity in the manufacture of rolling stock.
As part of the contract, prototypes of the bogies will be supplied to third party testing institute during November, with full-scale production deliveries to start taking place between the end of 2020 and the first quarter of 2021.
Boyet notes that the contract highlights TMH Africa's welding competency, for which the company was awarded an ISO 3834 welding certificate from the Southern African Institute of Welding in March.
"Welding is the backbone of our manufacturing operations," he says.
TMH Africa's new contract comes on the back its parent company TMH International supplying 1 300 passenger coaches to Egypt National Railways as part of a €1-billion contract signed in 2018 – one of the largest ever rolling stock contracts in Egypt's history. The first coaches were delivered in June and put into service in August.
The fulfilment of the bogie contract will incorporate a transfer of technology from within the TMH group's portfolio between Russia to South Africa.
Boyet believes this will highlight TMH Africa's ability to deliver European technology standards in Africa by drawing on the capacity, skills, technology and experience of the entire TMH International group.
He adds that several service agreements with neighbouring countries are also currently being negotiated, whereby TMH Africa will take on the maintenance of locomotives and rolling stock. This will enable railway operators to focus on operations and ensure reliable services.
Boyet notes that it is encouraging to see business continuing to flow in the passenger rail space following the negative impact Covid-19 has had on the sector.
"The entire passenger rail value chain has taken some strain. It has been a difficult time for the industry," he says.
Although the national lockdown forced production to slow initially, TMH Africa has been operating at 100% capacity since July after ensuring that Covid-19 occupational health and safety (OHS) standards were met.
"OHS compliance has been well accommodated and it has been encouraging to see how supportive all our team members are," Boyet adds.
TMH Africa began operating in South Africa in 2018, and has since become a level one broad-based black economic empowerment contributor. The company operates out of a 45 000 m2 facility in Boksburg, Gauteng, employing more than 200 skilled employees.
TMH Africa has positioned itself as a competence centre for narrow gauge railway rolling stock manufacture, and aims to be an essential part Africa's rolling stock manufacturing hub, servicing the continent from its South African base of operations.
The company aims to continue harnessing the latest technology to service and manufacture efficient, reliable and world-class rolling stock both for passenger and freight operations.