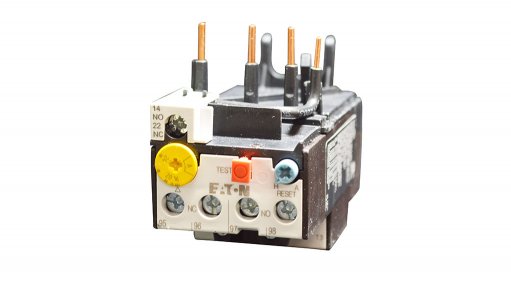 ON SHOW The DILM Range was highlighted at the recent roadshows held by Magnet
Electrical solutions provider Magnet Group hosted a roadshow with about five of power management company Eaton's technicians in October to highlight Eaton's DILM range of contractors, circuit breakers and overload relays to Magnet clients and end-users.
The roadshow, which visited the Durban, Richards Bay and Pietermaritzburg areas, in KwaZulu-Natal, aimed to offer clients an opportunity to interact with Eaton product specialists and engage with the products prescribed for their facilities' specific applications. On display was Eaton's DILM range from its motor control collection, along with comprehensive Eaton solutions for automation, circuit protection and power distribution.
"Eaton DILM motor control and protection products efficiently meet the demands of challenging applications, including motor control centres, field starter panels and heavy-duty pumps, as well as conveyors, fans, pumps and compressors," says Magnet Group MD Brian Howarth.
Magnet's portfolio of Eaton space-saving motor control and protection devices – which are on average 10% smaller than other devices used for the same purpose – offer motor starting and protection solutions in diverse industries, including mining, oil and gas, pulp and paper, original-equipment manufacturers and the automotive sector.
"The DILM range – which encompasses contactors, circuit breakers and overload relays – has been designed for easy installation and simple setup, increased accuracy, greater visibility into the motor status and a higher degree of protection," notes Howarth.
The range also includes DILM contactors for utilisation category AC-1/400 V non-motor loads. Its operating characteristics include non-inductive and slightly inductive loads, and electrical characteristics for switch on and switch off are one time the rated operational current. Typical applications for this range are for industrial electric heaters.
DILM contactors within the AC-3/400 V utilisation category are rated for normal switching duty for alternating current induction motors. Operating and electrical characteristics are switch on from stop up to six times the rated motor current and switch off during run up to one time the rated motor current. Typical applications include compressors, lifts, mixers, pumps, escalators, agitators, fan conveyor belts, centrifuges, hinged flaps, bucket-elevators, air-conditioning systems and general drives for manufacturing and processing machines.
Further, the DILM range includes contactors for utilisation category AC-4/400 V, which are rated for the extreme switching duty of squirrel-cage motors. Operating characteristics are inching, plugging and reversing. The electrical characteristics for making and breaking the current are up to six times the rated motor current. The DILM AC-4/400V range is used in applications such as printing presses, wire-drawing machines and centrifuges, as well as for special drives used for manufacturing and processing machines.
Complementing the DILM range are the PKZM and PKE motor protective circuit breakers, which Eaton distributes. The circuit breakers range between 0.63 A and 63 A, offering short circuit and thermal overload protection to prevent downtime. These devices, with screw connection and push button or rotary switch-type controls for manual on and off functionality, are also suitable for use in environments where there is constant or cyclic damp heat.
Magnet also supplies Eaton's motor control and protection range, which encompasses overload relays, soft starters and variable-speed drives.
"Eaton is gradually penetrating the market and hopes to continue to promote its products throughout South Africa through its partnership with Magnet," says Eaton Electrical product manager Devan Reddy.