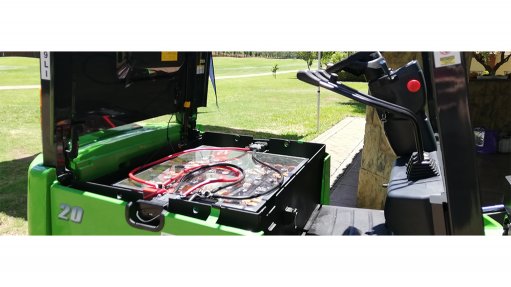 CLEAN HANDLING The highest demand for lithium-ion-powered forklifts has been from fast-moving consumer goods applications that require clean environments for food
The demand for lithium-ion-powered forklifts is increasing locally, owing to companies wanting to reap the benefits of energy efficiency and cost effectiveness, as well as in preparation for changing legislation regarding emissions, says forklift distributor for Masslift Africa national sales manager Hugh Golden.
"A significant reason for clients moving away from forklifts powered by diesel or liquified petroleum gas (LPG) to lithium-ion-powered forklifts is the latter's cost-effectiveness in terms of longer life cycles, as the forklifts are maintenance-free," Golden highlights.
"Lithium-ion batteries on the forklifts can last for six to eight years, or between 12 000 and 20 000 hours," Golden adds. These batteries also reduce the risks of dangerous gases escaping, eliminating the need for special charging areas with ventilation.
The charging efficiency of lithium-ion-powered batteries is also an advantage, as they can be charged at any time for any period. This is more efficient when compared with other electric batteries, such as lead-acid batteries, which must be charged for eight hours at a time.
Consequently, using lithium-ion batteries mitigates the requirement of a second battery for night shifts, which also negates the need for a battery bay that is usually costly to install and takes up space.
Although the initial cost of equipment for lithium-ion-powered forklifts is higher when compared with that for diesel- and LPG-powered forklifts, Golden attributes this to customers' "buying fuel upfront", instead of them paying as the diesel- and LPG-powered forklifts use fuel.
Legislation and Demand
Golden states that changes in local legislation will also increase the demand for lithium-ion-powered forklifts.
"Legislation will inevitably move towards minimising the use of diesel forklifts around food products. We are also seeing several clients moving away from diesel or LPG powered forklifts, owing to the emissions and costs associated with that."
The costs of using diesel or LPG forklifts have also increased in the past two years, owing to the Carbon Tax Act coming into effect last year.
This further heightens the cost effectiveness of using lithium-ion-powered forklifts over diesel and LPG forklifts.
Golden also maintains that local legislation will eventually be changed to prevent the build-up of particle residue that comes into contact with food products being handled by forklifts.
The highest demand for lithium-ion-powered forklifts has been from fast-moving consumer goods applications that require clean environments for food products in industries such as retail, packaging, fresh produce farming and markets, pharmaceuticals and warehousing, as well as logistics, he adds.
To date, Masslift Africa has received more than 50 orders for lithium-ion-powered forklifts in the past nine months.
These orders have been for the company's materials handling equipment supplier Mitsubishi three- and four-wheel electric models, which are compatible with lithium-ion batteries. Masslift's Mitsubishi RBF reach trucks are also compatible, which provides numerous options within the range.
To capitalise, the company is also releasing a new four-wheel model at the end of this month, which Golden states "will again be at the forefront in terms of the latest benefits that electric forklifts can offer to the market".
Golden confirms that about 90% of these orders received have been from the local market, except for a few units, which were delivered to eSwatini. Since then, there has been an increased interest in these forklifts from other companies in eSwatini.
The company has also received enquiries for models from Mozambique.
"While the use of lithium-ion-powered forklifts is still in the early stage of product acceptance locally, forward-thinking companies have been quick to adapt to the change and have seen the benefits. We are seeing more companies following suit now that there has been real live use, and data that can prove the benefits of using this new technology," he concludes.