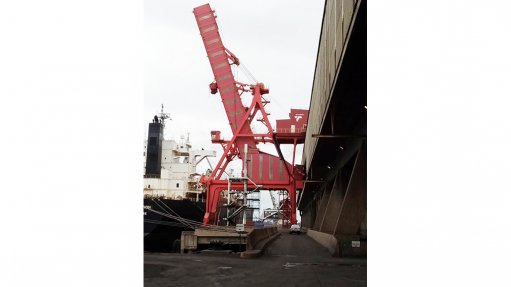 New ship loader
The Richards Bay Bulk Terminal has taken delivery of a new multi-purpose ship loader as part of its capacity creation initiatives.
This investment of over R124-million is expected to contribute to improved loading rates at the terminal, as well as to aid in the handling of increased volume throughput of strategic export commodities in line with forecasted demand.
"This ship loader introduces an opportunity for maximum use of underutilised berth capacity and it comes at a crucial time when the economy is recovering," Richards Bay Terminals acting managing executive Thulasizwe Dlamini says.
He adds that the existence of the loader was especially significant as cover for periods where similar equipment underwent scheduled maintenance.
The ship loader boasts a capacity of 3 000 t/h at a density of 1 900 kg/m3.
Moreover, its design has met all the legal dust emission requirements as per the environmental impact analysis.
"The loader forms part of three capacity-related initiatives that will see us handle more export chrome, magnetite and coal volumes. Converting one of the import berths is another, as well as adding a new conveyor route.
"These, combined, form part of turning around the Richards Bay terminals and offering superior value to our customers," Dlamini says.
The Richards Bay Terminal operates in one of South Africa's deep-sea water ports and boasts 13 berths combined, where over 20 dry bulk ores, minerals and break bulk consignments are handled.