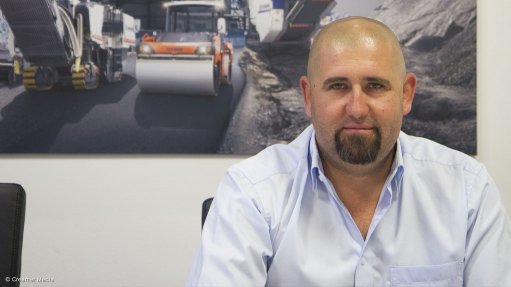 WAYLON KUKARD Cold recycling using foamed bitumen as a binding agent is a globally established process that is attracting increasing interest from road construction authorities
Photo by: Duane Daws
To eliminate extensive road damage, construction company Wirtgen SA sales manager Waylon Kukard explains that, for an environment- friendly rehabilitation of road pavements, existing construction materials need to be fully reused, which significantly reduces material costs.
"Different technologies are used, depending on whether the damage is limited to the road's surface course or has been caused by structural defects. The full reuse of the milled material as well as its cost- effective treatment make cold recycling using foamed bitumen – a black and highly viscous liquid or semi-solid form of petroleum – environment-friendly and economical."
In the cold recycling process, the bound and unbound layers of the pavement structure are milled at full depth and recycled by adding new binding agents and additives to produce a stable layer capable of withstanding traffic loads, Kukard outlines.
"Cold recycling using foamed bitumen as a binding agent is a globally established process that is attracting increasing interest from road construction authorities and construction companies for asphalt road rehabilitation," he notes.
Kukard explains that cold recycling allows for the paving of flexible and durable base layers and, as part of the pavement structure, these form the "perfect foundation" for the final, thinner asphalt surfacing.
High-quality technology is used to produce foamed bitumen from normal bitumen which has been heated to about 175 ºC, he adds. As soon as the bitumen comes into contact with water, it expands and foams up.
The volume increase allows for less of the product to be used, which is beneficial because bitumen is starting to become a scarce commodity, owing to its use as a by-product for petrochemicals and oil industry companies such as Sasol, Shell and BP.
However, Kukard notes that KwaZulu-Natal is currently the only province using foamed bitumen in situ for road rehabilitation projects locally, for about four years.
"With the in situ method, a precisely dosed quantity of binding agent is added to mineral aggregate inside the Wirtgen 2200 Cold Recycler (CR) or 3800 CR, or the soil stabilisers of the Wirtgen Recycler series using microprocessor-controlled injection systems."
He explains that, although none of these machines (the Wirtgen 2200 CR or 3800 CR) are currently in operation locally, there have been discussions with some municipalities and local governments to implement Wirtgen cold recycling machinery on local road rehabilitation projects.
With South Africa's growing tourist economy in mind, Kukard says any region with the proper infrastructure will become an automatic tourist attraction, as well as a safe tourist destination.
"With a lot of potholes, it [becomes] very unsafe to travel. International companies often comment on how well-maintained our major roads are, which is quite interesting. If you look at our national roads, they're probably some of the best in the world. Our municipal roads lack a bit," Kukard states.
He adds that the lack of road maintenance in municipalities is a concern, as some municipalities' knowledge of the condition of their road infrastructure extends to only about 20% to 30% of their road infrastructure.
Challenges are further exacerbated by a lack of funds to maintain these roads at national and municipal level.
"I think it's becoming critical because there are a lot of roads that are in dire need of being repaired – unfortunately, the money is just not available," Kukard states.
It does not seem as if sufficient funds will become available anytime soon, which, barring a strategic response, will result in problems exacerbating as the road infrastructure worsens. This is especially applicable to safety which is a recurrent problem as congestion on major roads increases. Road infrastructure is key to a country's economic growth, which leads to an increase in road freight and a need to maintain road infrastructure.
However, he concludes by saying that industry is moving well to find new alternatives, machinery and technologies: "South Africa has always seemed to be on the forefront when it comes to adopting new technologies."