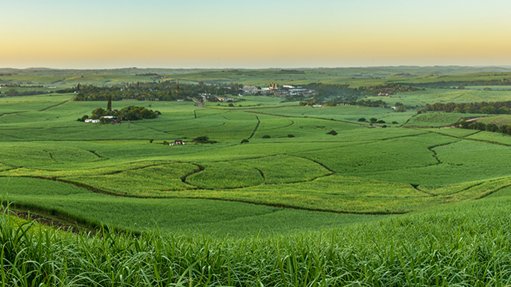 A NEW HORIZON The sugar master plan seeks to create a diversified and globally competitive, sustainable and transformed sugarcane-based value chain
The business restructuring efforts of sugar producer Tongaat Hulett over the past few years has enabled it to enter the Covid-19 outbreak as a "leaner, fit-for-purpose organisation" better able to weather the pandemic, says Tongaat Hulett sugar operations MD Simon Harvey.
"The Covid-19 pandemic added significant challenges to already tough economic conditions in South Africa. Many companies are now facing reduced revenue, retrenchments and restructuring."
However, as a designated essential service provider, Tongaat Hulett was able to continue running its sugar businesses across all geographic locations since the start of the lockdown. Harvey confirms that the financial impact of the pandemic on the company's sugar operations has been limited to date.
"We remain firmly focused as the impact of the pandemic on our operations and society unfolds. Our priorities remain the safety and health of our people and providing food security," Harvey says.
A key development in the South African sugar industry was the signing of the Sugarcane Value Chain Master Plan 2030 by Trade, Industry and Competition Minister Ebrahim Patel, Agriculture, Land Reform and Rural Development Minister Thoko Didiza, and other sugar industry stakeholders last month.
The master plan seeks to create a diversified and globally competitive, sustainable and transformed sugarcane-based value chain that actively contributes to South Africa's economic and social development, creating prosperity for stakeholders in the sugarcane value chain, the wider bio-economy, society and the environment.
"We are completely supportive of the sugar master plan, which will create a win-win for government, business and consumers. There are exciting prospects, as the industry value chain works together to strengthen and improve the South African sugar industry and ensure its sustainability for the benefit of all stakeholders," says Harvey.
The first phase of the master plan will run for three years and is focused on stabilising the industry, restructuring industry capacity in an orderly manner, protecting and retaining jobs, securing the role of small-scale growers in the industry and ensuring transformation of ownership within the industry.
During this phase, industrial users and sugar retailers have committed to minimum levels of South African-produced sugar, equal to no less than 80% of their requirements in year one and increasing to 95% by year three. To support this undertaking, sugar producers have committed to price restraint during this period. The sugar industry will use the three-year period to commence a restructuring plan which includes the development of diversified revenue sources for the industry.
In addition to the benefits that will accrue from the sugar master plan, Tongaat Hulett has also been producing fuel-grade ethanol from molasses at its Triangle sugar mill, in Zimbabwe, since the late 1970s, which contributes to the company's income stream.
Harvey says Tongaat Hulett is investigating opportunities to produce ethanol in Mozambique and South Africa in the near future. However, he notes that "while ethanol is a diversification opportunity, we are investigating a range of other options to maximise value from sugarcane processing. The viability of ethanol production will compete for capital with these alternative opportunities."
Before the outbreak of Covid-19, the company had had to deal with the influx of imported sugar and the Health Promotion Levy – colloquially known as the "sugar tax" – which was legislated through the Rates and Monetary Amounts and Amendment of Revenue Laws Act in 2017, and which came into effect in April 2018.
The levy, designed to support the Department of Health's goals of decreasing diabetes, obesity and other related diseases in South Africa, is administered and collected by the South African Revenue Service (SARS).
Harvey notes that the impact of the levy on industrial sales seems to have stabilised, and that the sugar content of beverages and food products have been adjusted, leading to a seemingly permanent industry-wide reduction in demand of about
300 000 t in terms of these products.
"Tongaat Hulett's strength in packaged sugar, with a lower dependency on the industrial market, has stood the company in good stead, partially shielding us against the impact of the Health Promotion Levy in South Africa," he tells Engineering News.
Global Positioning
The influx of imported sugar has, over the past few years, resulted in a surplus, which then had to be exported by the industry as raw or unrefined sugar at the current global sugar price.
Sugar imports, much of it from India, have been a challenge for the South African sugar industry. SARS decreased the import tariff on beet and cane sugar goods from 476.61 c/kg to 418.61 c/kg in March, but then increased it again to 527.75 c/kg in July, providing some relief for local producers.
The tariff is calculated, according to SARS, using a variable tariff formula to adjust the import duty to a US dollar-based reference price (DBRP). The DBRP represents the lowest duty-free price an importer pays to the Southern African Customs Union (Sacu) to import goods. If the price falls below the DBRP, a duty is levied.
Increasing volumes of sugar have also been sold by producers from Eswatini, formerly Swaziland, arising from loss in value experienced when their preferential European Union quotas were abolished in September 2017.
All these factors have placed significant pressure on local small-scale sugarcane growers and the communities that depend on the local sugar market as a primary means of income. Harvey says, however, that Tongaat Hulett is optimistic that the sugar master plan will play a significant role in ensuring the long-term sustainability and profitability of the South African sugar industry, securing the futures of the one-million South Africans who rely on the industry.
"Wherever possible, Tongaat Hulett is committed to alleviating hardship in the communities wherein we operate. We have invested significantly to support affected employees and communities," Harvey claims.
For example, in response to Covid-19, the company donated a total of 740 000 𝓵 of sanitiser – 250 000 𝓵 in South Africa, 410 000 𝓵 in Zimbabwe and 80 000 𝓵 in Mozambique. In one of these projects, the company donated 3 000 bottles of sanitiser to small-scale farmers working with the company in KwaZulu-Natal, as part of an initiative to ensure that they were protected and compliant with government's guidelines on Covid-19.
"Small-scale growers are an important constituency within Tongaat Hulett and the sugar industry. They remain the largest driver of local economic development and promoter of sustainable livelihoods in rural communities in the areas where we operate," said Tongaat Hulett Sugar corporate affairs executive Nkonzo Mhlongo in a statement issued in June.
In 2019, there were 10 443 farmers supplying Tongaat Hulett's South African Sugar operations, including the commercial farmers, small-scale farmers and land reform growers, with 94% of these farmers being small-scale growers.
Combined, Tongaat Hulett's South African sugar farmers delivered 2.2-million tons in the 2019/20 summer season, with 728 000 t produced by small-scale growers. About 3 037 jobs were created by these small-scale growers, who paid about R127-million in wages last year.