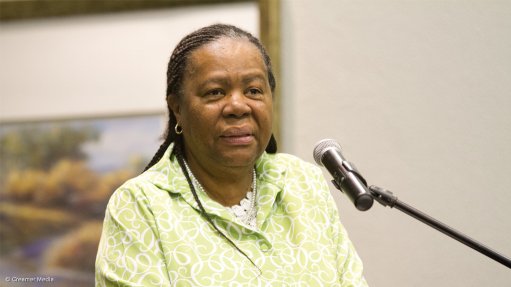 Science and Technology Minister Naledi Pandor
Photo by: Duane Daws
Research has become a powerful tool in the global economy and researchers have been able to provide a better quality life for South Africans, Science and Technology Minister Naledi Pandor said on Thursday.
Speaking at the National Research Foundation (NRF) awards ceremony in Polokwane, Pandor said that the awards is a symbol of progress made by men and women who are committed in making South Africa a knowledge-intensive economy.
"In celebrating research excellence as embodied by the distinguished researchers who are receiving the NRF awards, we are celebrating a group of men and women who are necessary and crucial to our progress towards making South Africa a knowledge-intensive economy," Pandor said.
"Another necessary precondition for our progress to a knowledge economy is transformation and the expansion of opportunities so that more women and black people can enter the cohort of knowledge workers. As we move into the future we should not only look at the number of ratings awarded each year, but also at escalating the development of a diverse; in terms of age, gender and race; cohort of young researchers."
The NRF were awarding top researchers in South Africa for their pioneering work in advancing knowledge and innovation.
The recognition awards provided a platform to honour researchers for career achievements and contributions to knowledge creation and dissemination, as well as capacity development and transformation.Former deputy president Kgalema Motlanthe was one of the dignitaries present.
NRF group executive, Beverley Damonse, said the awards are in recognition of the research excellence.
"We would like to honour excellence through our NRF ratings award, and we have a number of categories and the top rating category for the top A rated researches, these are internationally recognised experts," she said.
"We have young P rated researchers who are recognised as under 38 year old researchers who are doing really excellent work."
Brand South Africa general manager communications, Manusha Pillai, acknowledged the work done by researchers and said that their efforts offer solutions to current challenges facing the country.
"This also allows South Africa to be a thought leader internationally on various issues. Research and innovation also demonstrates South Africa's ability to move into the knowledge economy which is at the heart of the National Development Plan," Pillai said.
Touching on the issue of university fees and the student-led protest that began in October 2015 in response to an increase in tertiary education fees, #FeesMustFall, Pandor said everyone who can contribute should contribute to education.
"The current impasse on fees I hope will be resolved satisfactorily and in the interest of higher education. And to do so all of us who are opinion makers, with a very wide privilege of access to the media, need to begin to talk to South Africans who can afford to pay to actually pay," Pandor said.
"We support investment in students from families who can not afford to pay university fees. But for a person like myself, who works and earn an income, I must contribute."