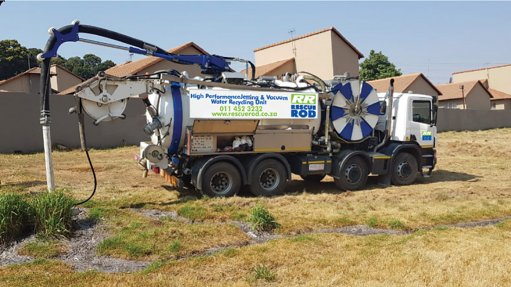 Rescue Rod has been providing various pipeline services and waste management solutions since 1990. With over 25 years of experience in the industry and some of the most technologically advanced industrial sewer cleaning and pipeline rehabilitation equipment globally, Rescue Rod has always stayed true to its principle of giving clients the best possible solution.
With water being one of the most precious resources for human beings, there is a growing interest in sewer cleaning combined with water recycling.
Rescue Rod's goal is to minimise the high volumes of drinking water currently used for sewer cleaning. It also aims to increase the efficiency of their vehicles.
The KAISER AquaStar offers a perfect combination of performance and versatility. The KDU jetting pump delivers water at a rate of
320 L to 500 L/min and water pressure of up to 200 bar. The large hose reel can accommodate up to 300 m of jetting hose.
With the KAISER vacuum pump, the maximum air throughput is 3100 m³/h. By using a selection of various suction booms, the vehicle can be optimally adapted to the respective implementation requirements.
The combined jetting hose and suction boom allows the vehicle to be positioned directly at a manhole for a quick and safe sewer cleaning process.
The unique installation of the vacuum pump in the fresh water chamber allows for cooling, noise insulation and increased suction power, owing to the short suction lines.

Efficiency of the AquaStar
The patented Kaiser water recycling system saves 24-million litres of fresh water a year, for every vehicle. It provides a highly efficient combined sewer cleaning and water recycling system, even in the worst sewer pipe conditions.
In addition, it allows for fast setup using a combined jetting/suction boom and no extensions are needed, owing to the vacuum hose reel.