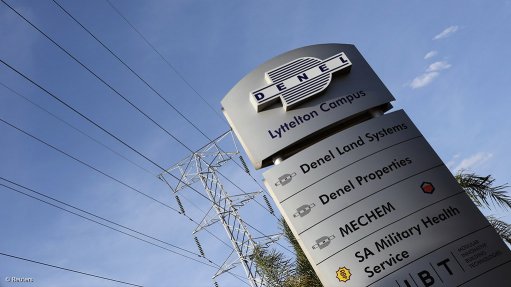 Denel campus
Photo by: Reuters
Despite State-owned aerospace and military technology company Denel's Turn Around Plan (TAP) having been approved in February 2019, the company said in a presentation to Parliament's Standing Committee on Public Account (Scopa) on August 24 that it continues to experience severe liquidity constraints.
This is because tasks identified in the TAP to generate the required funding, that is, the disposal of assets and engaging in equity partnerships, have been difficult to implement owing to non-alignment of stakeholders.
Denel's TAP was approved following an assessment of its business areas against the requirements, market and industry, which resulted in a need to reshape and redirect Denel.
While many of the operational, financial and other strategic initiatives implemented as part of the TAP have been effective and are still relevant to Denel, they have so far proven to be insufficient to deliver a profitable entity in the short term, the presentation noted.
It indicated that the current business model remains inflexible and untenable and that capital distribution to unproductive assets has continued to negatively affect viable projects across the divisions.
Therefore, the Denel Five-Year Strategy has been designed to improve and accelerate the TAP through restructuring into a lean operating model, repurposed for profitability and sustainability.
The merged and restructured operating model of Denel therefore aims to retain and develop the knowledge base; reduce the cost base; and be restructured for efficiency, agility, competency, career, development, diversification and growth.
The presentation said that a stabilised and refocused Denel would remain financially sustainable through expanding its vision to include, but not be limited to, meeting the South African National Defence Force requirements as expressed in the South African Defence Review 2015, as well as any future evolution thereof.
Moreover, it would leverage Denel's innovation and technology development capabilities to lead industry in meeting South Africa's Homeland Security and Justice, Crime Prevention and Security Cluster requirements.
There would also be technology development and industrialisation to transition the industry optimally as the world pursues the Fourth Industrial Revolution and eventually the Fifth Industrial Revolution.
Key benefits of the restructured Denel include that it is aimed at achieving the objective of the TAP to exit noncore business, optimise properties and retain core capabilities to meet the Department of Defence strategic requirements, the presentation indicated.
Moreover, it posited that it rationalises Denel's cost base and supports the development of local industry through Denel's supply chain, while facilitating the emergence of public-private partnerships.
It also said it supports the reinventing of Denel to change from government-funded budget reliance to a commercial culture with an expanded relevance to the country; and providing access to new markets and technologies through smart partnering.
Engineering News earlier this month reported that Denel had announced a radical reorganisation, in an attempt to turn the business around.
The plan also implied a significant downsizing of the group. Despite this, Denel management only expected the group to return to profitability within five years.
Under the turnaround plan, Denel's current six divisions (there is also a subsidiary company) would be collapsed into just two. These would be the engineering division and the manufacturing and maintenance division, with the latter as Denel's core business, Engineering News reported.
CURRENT STATE
The presentation to Scopa set out Denel's 2021/22 financial year results, to date, with revenue 60% behind the year to date budget resulting in 6% gross margins.
Moreover, the year to date loss is 51% behind budget at R368-million.
Also, the delivery to the financial year budget (revenue: R3.7-million) is at risk as the business continues to lose skills and operational activity is at low levels.
The presentation states that Denel is technically insolvent and that available cash is insufficient to meet operational requirements, including the payment of salaries and suppliers.
Denel currently owes R636-million in employee renumeration and related costs and about R900-million to suppliers.
The latest cash flow projections for the 2021/22 financial year indicate a negative R600-million, if no mitigation action is taken.
There is a non-extension of the tax clearance status of Denel owing to non-payments of pay as you earn, value-added tax and the like.
Fitch Ratings has affirmed Denel's national long- and short-term ratings at 'CC(zaf)' and 'C(zaf)', respectively, which is below investment-grade. The reasons cited for the poor rating are the group's severely constrained liquidity, amplified by a lack of visibility on future additional government support.
The uncertainty about Denel's future state has impacted on existing customers who are concerned about Denel's ability to deliver on contracts, leading to a possible call on prepayment and performance guarantees, the presentation noted.
LEGAL
Denel is also facing a number of legal challenges. The first involves a liquidation application by SAAB. The matter is still in court, while parties continue to seek an amicable resolution, the presentation indicated.
Also, the non-payment of salaries has led to court applications being lodged by trade unions. The matter has been postponed to December allowing Denel time to comply with an August court order.
Moreover, some employees, in their individual capacity, have submitted court applications for amounts owed to them.
"This poses a threat to Denel's assets, as execution orders to attach assets have been granted by the courts," the presentation showed.
Also, there is the threat of other suppliers making a similar application as increased letters of demand are delivered to Denel.