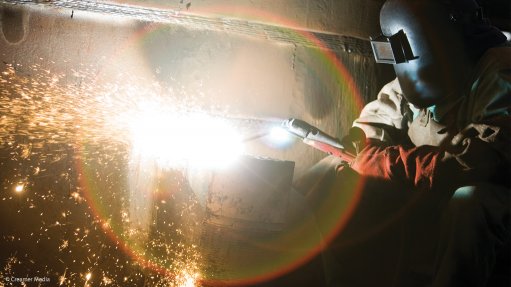 Photo by: Creamer Media
The Centre for Development and Enterprise (CDE) has published a hard-hitting critique of South Africa's localisation policy, warning that it could raise the cost of doing business, reduce export competitiveness and constrain future development.
Titled 'The Siren Song of Localisation: Why localisation policy will not lead to industrialisation', the CDE report includes input from Professor Lawrence Edwards and Professor Emeritus David Kaplan, both of the University of Cape Town's School of Economics.
It argues that the localisation strategy, which has been included as one of the components of government's Economic Reconstruction and Recovery Plan, runs counter to President Cyril Ramaphosa's goals of reducing the cost of doing business, improving the investment climate, opening the economy to new entrants and using infrastructure to stimulate growth.
Trade, Industry and Competition Minister Ebrahim Patel has requested the social partners at the National Economic Development and Labour Council (Nedlac) to consider an import-substitution target of 20% for non-petroleum imports, which he argues could drive progressive localisation worth up to R200-billion over the coming five years.
The so-called Nedlac accord is premised on an analysis showing that South Africa's import to gross domestic product (GDP) ratio was too high, with R1.1-trillion in non-oil imports yearly ahead of the Covid-19 pandemic.
"We import goods worth 25% of our GDP – our propensity to import is out of line with peer countries and developed economies and more can sensibly and sustainably be produced locally. Compare our 25% with China at 14%, India at 16%, Brazil 10%, the US at 12% and the EU at 14%," the Minister has argued.
Organised business has responded cautiously to the call but has not criticised it as unworkable or impractical. Instead, it has urged government to implement an evidence-based localisation policy that is supportive of employment creation and increased economic competitiveness.
One of the key instruments being deployed by government to facilitate industrialisation-through-localisation has been the designation of products for local procurement by organs of State, including State-owned enterprises.
Twenty-seven products, ranging from rail rolling stock and power pylons to solar components, have already been designated and there are plans to expand the list to 42 products in the not-too-distant future. Most recently, locally made cement was designated for the upcoming infrastructure roll-out.
CDE executive director Ann Bernstein, who presented the report's highlights during a virtual launch, pointed to analysis showing that South Africa did not have an "over propensity" to import.
The country's imports and exports as a ratio of GDP, she said, were similar to a large number of countries.
Imports were also critical not only for development but also to support innovation and exports, owing to integrated global supply chains and the need for imported capital goods to support the export of manufactured products.
"Localisation is, thus, an anti-export strategy," Bernstein asserted, adding that few countries had developed in the absence of export-led growth.
Kaplan acknowledged that the issue was a complex one, as localisation could support industrialisation in certain specific circumstances.
However, if South Africa were to use localisation to support industrialisation, Kaplan argued that it should be designed primarily to enhance efficiencies over a specific time horizon and deployed with full transparency of the costs and benefits, as well as with a commitment to ongoing external evaluation.
Edwards argued that, in many cases, product designations would prove to be too blunt an instrument to support the development of competitive industrial capacity.
He also underlined the strong relationship between imports and exports, noting that research showing that the most successful exporters, including South Africa automotive manufacturers, were also the most likely to be importing a significant fraction of their inputs.
"Given the strong link between imports and exports and given that there are no examples of successful industrialisers who have not exported a very large proportion of their output, it is very hard to see how a deliberate strategy of reducing imports is appropriate for South Africa."
Department of Trade, Industry and Competition chief economist Stephen Hanival said that the time and energy invested by South Africa to negotiate the African Continental Free Trade Agreement was indicative of the importance that government attached to exports.
"The question, though, is how do we get into an export market like the production of solar panels if, as part of the various renewable energy procurement rounds, we don't designate solar panels so that we begin to develop that capacity locally," Hanival said.
He also stressed that government was fully aware that the capacity had to be developed progressively and, therefore, did not always designate 100% local content.
It also did not designate firms but products, so as to ensure ongoing competition in the market among domestic manufacturers.
"[Realising that it can be a] blunt instrument we are careful and nuanced in the way we use designations, especially because we accept that we're not going to be able to miraculously produce semi-conductor chips in a year's time," Hanival said.
Given the complexity of the issue, both Hanival and the report's authors agreed that more debate and consensus building on the country's localisation policy was required.