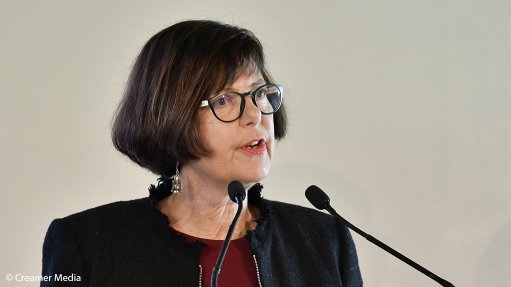 Environment, Forestry and Fisheries Minister Barbara Creecy
Photo by: Creamer Media's Donna Slater
Environment, Forestry and Fisheries Minister Barbara Creecy has made a direct link between government's proposed designation of Renewable Energy Development Zones (REDZs) in the coal and gold mining towns of Emalahleni and Klerksdorp respectively, and South Africa's just transition to a low-carbon, nature-positive economy.
In a briefing ahead of the Department of Environment, Forestry and Fisheries' R8.2-billion budget vote on Thursday, Creecy said the proposed promulgation of three new REDZs would fast-track the development of renewable-energy projects in line with the Integrated Resource Plan 2019.
Besides Emalahleni, in Mpumalanga, and Klerksdorp, in the North West, a recently released Gazette notice indicated that government also proposed declaring Beaufort West, in the Western Cape, as a REDZ, bringing to 11 the total number of REDZs proclaimed nationally.
The eight areas already designated as REDZs are Overberg, Komsberg, Cookhouse, Stormberg, Kimberley, Vryburg, Upington and Springbok.
Renewable-energy projects located within the boundaries of a REDZ are beneficiaries of streamlined environmental authorisation processes.
The Gazette notice, which was published on July 17, set aside 30 days for the public to comment on the three new REDZs and was released in parallel with similar proposals for seven transmission corridors and the declaration of new gas corridors. Again, the public comment period allocated was 30 days.
"As the country moves to a nature-positive future, the department has called for public comment on three more REDZs," Creecy explained, adding that all the REDZs had been selected for their combination of natural solar and/or wind resources and their proximity to grid infrastructure.
"Of course what is interesting about the new areas that we have put out, particularly Emalahleni and Klerksdorp, is that they have historically been coal and gold mining towns. Really it is an experiment to see whether we can generate a renewables industry in those areas, close to existing transmission lines so that we can begin the process of a just transition."
When government spoke of a just transition it meant a situation whereby "the poor and working class should not be left behind in an energy transition process".
The Minister also underlined the importance of the establishment of the Presidential Climate Change Coordinating Commission, which was agreed as part of the Jobs Summit process, to facilitate a just transition and said the delay in assembling the body could be directly attributable to the Covid-19 lockdown.
"We have developed terms of reference for that commission. Those terms of reference are in the Cabinet system and I think really it would be more a question how we facilitate a body like that under current Covid-19 conditions.
"But obviously our commitment to involving business, organised labour, civil society and, of course, all government role-players in the just transition remains. It's more a question how, under these conditions, one makes it functional."