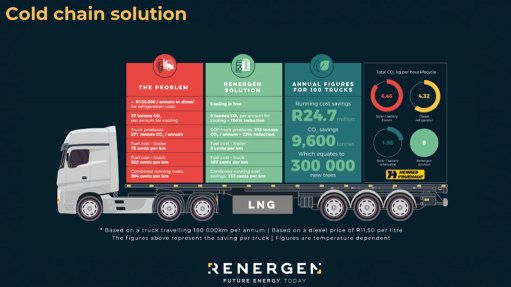 Emerging domestic natural gas and helium producer Renergen has, in partnership with trailer manufacturer Henred Fruehauf, developed a zero-emission solution for the cold-chain logistics industry.
The solution makes use of liquid natural gas (LNG), stored at ultralow temperatures in the truck's tank, and which must be brought to room temperature before being consumed in the engine.
In heating the gas, the cold energy of the gas is transferred to the refrigeration compartment of the truck, providing free cooling and reducing the combined greenhouse-gas (GHG) emissions for each truck by up to 96 t/y.
The added benefit is a reduction in running costs of up to 23% of the total fuel bill consumed by a truck using standard refrigeration technology.
Henred concept manager Eduan Naude cites the solution as "unique" as it "gives customers the potential for huge savings".
This is the first of Renergen's two major milestone announcements at this year's South African Investment Conference.
The second milestone is the opening of another major transport corridor – the N1 route between Johannesburg and Cape Town – for LNG, in conjunction with Total, in 2021.
This route is the company's second route (with the first being the N3 between Johannesburg and Durban), and it carries a large proportion of refrigerated trucks that are instrumental in moving perishable goods from the Western Cape to Johannesburg.
The high use of refrigerated trucks along the N1 is what led to the collaboration between Renergen and Henred.
Commenting on the announcement, Renergen MD and CEO Stefano Marani says the addition of a filling route for LNG is a "major milestone" for the company.
"The innovative collaboration between Renergen and Henred Fruehauf highlights the commitment of both companies to clean energy and showcases what South Africa has to offer the world," he adds.
"We look forward to rolling out this cold-chain solution to our customers across the country and look to other companies globally to begin adopting this innovative technology to reduce the world's global carbon footprint."
Additionally, in 2019, the dual-listed company pledged to invest up to R750-million in the construction of South Africa's first and only commercial onshore LNG plant, and the only sub-Saharan African helium liquefier.
So far, over 50% of the total investment has been made and more than 100 new jobs have been created.