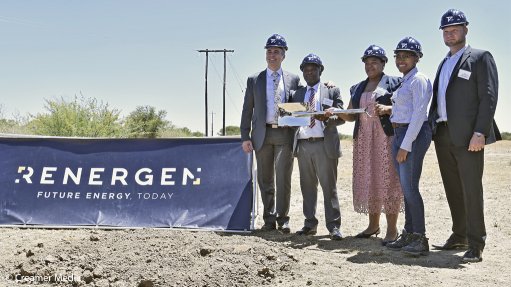 BREAKING GROUND (Left to right) Renergen CEO Stefano Marani, DMRE technical support chief director Xolile Mbonambi, Renergen CFO Fulu Ravele and Renergen COO Nick Mitchell at the groundbreaking event at the Virginia gas project
Photo by: Creamer Media's Dylan Slater
Emerging natural gas producer Renergen marked the start of the pipeline construction at its flagship Virginia gas project, in the Free State, with a sod-turning ceremony, last month.
Liquefied natural gas (LNG) and liquid helium production is expected by 2021, when Phase 1 of the project is expected to be on line and producing revenue. Phase 2 is expected to come on line in either 2022 or 2023.
Constructed in a modularised fashion, the project will be assembled in sizes of standard shipping containers for ease of transport and installation on site.
The design uses a mixed refrigeration cycle for the liquefaction of the natural gas, which means the energy consumption is very low, compared with that of other plants of a similar, small scale. The plant is estimated to receive first gas in July next year.
Construction of the pipeline entails the connection of 12 existing gas-blowing wells into one of two booster/compression stations, where the gas is essentially dried, and pressure boosted for onwards transmission to the LNG processing plant.
Completion of the gas-gathering pipeline is expected in November 2020.
With global consumption of helium reaching about 80 t/d, Phase 1 of the Virginia project will supply only about 350 kg/d and about 2 700 GJ of LNG, while Phase 2 will result in production increasing to between 1.2 t/d and 5 t/d of helium.
Renergen CEO Stefano Marani told Engineering News at the ceremony that the start of the 52 km pipeline's construction was "the culmination of many years of work", enabling the company to connect all twelve of its gas wells through one centralised location.
"The pilot plant, which we've been [operating] from is only one well . . . now, we [can] connect all 12 wells, [thereby laying] the foundation for all future wells to be connected to the pipeline."
Construction will include digging the trenches and laying the pipes, as well as the installation of the valves and water drainage system.
Chinese equipment company Western Shell Cryogenic Equipment has been contracted to supply technology and equipment for the plant. Drilling contractor EPCM Bonisana, a subsidiary of EPCM Holdings, will install the pipeline and manage the interface.
A $40-million loan was approved in February this year by the US government's Overseas Private Investment Corporation to provide capital for the project, after Renergen announced that it had discovered reserves of up to 11% helium concentration.
The 187 000 ha field near Welkom has proven reserves of 25-billion cubic feet of natural gas and helium, and is considered to be the first and only onshore petroleum and natural gasfield in South Africa capable of supplying helium to numerous specialised and industrial markets.
Major Potential
One of the major applications of helium is in the healthcare sector and, with China's growing middle class now getting access to better healthcare, demand pressures are compounding; this makes the Virginia discovery a globally significant one for South Africa in the helium market.
Helium is used to cool superconducting magnets in magnetic resonance imaging – or MRI – scanners, and satellite instruments; propel balloons and airships; and in breathing equipment for deep-sea diving.
While not at the same scale as a billion-rand investment in a mining project, Marani agreed that the Virginia project was a top project in its own right, particularly when one looked at the nature of the gas and the concentration of helium on site.
"It is important because we are now the first commercial LNG operation in South Africa," he said.
The project also marks South Africa becoming one of eight countries worldwide to export helium, "and that is a major event for the country", Marani noted, adding that the company had its eye on becoming "the helium hub of Africa".
Although the project could be classified as a small natural gas or LNG project in its current form, it had the potential to develop into something world-class over the next few weeks, months and years, Renergen COO Nick Mitchell commented during the sod-turning ceremony.
"It may have the ability to impact on our energy landscape and could result in South Africa becoming a major player in the global helium market . . . currently dominated by the US and Qatar," he said.
In conversation with Engineering News, however, Marani clarified that, while significant, Renergen's project was not big enough to be the big ticket economic boost that South Africa needed, and instead explained that "the country needs more than just one company's efforts".
He suggested that collaboration between members of the public, private sector and government could be the direction South Africa needed to consider.
Meanwhile, considering that several initiatives were underway, Marani was hopeful that Renergen's Virginia project would mark the start of South Africa's upstream economy from a gas perspective.
"The sooner that South Africa is capable of developing its own natural gas resources, the less we need to import," he said, explaining that, as an export-driven economy, "the less [South Africa] imports and the more [it] exports, the better it is for everyone", Marani concluded.
Department of Mineral Resources and Energy technical support chief director Xolile Mbonambi, Petroleum Agency South Africa acting CEO Lindiwe Mekwe and Free State MEC Makalo Mohale also attended the sod-turning ceremony last month.