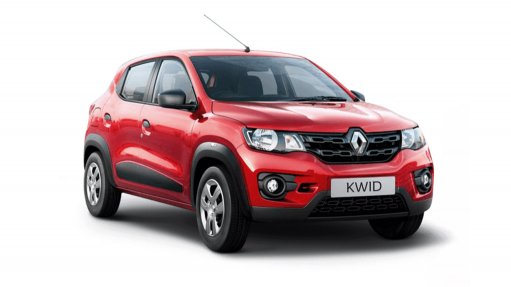 The Kwid
Renault South Africa (SA) is set to launch a fresh attack on the country's budget market in November, when it introduces the A-segment Kwid.
The India-made Kwid should be priced below Renault SA's current entry-level Sandero.
Renault SA CEO Nicholas de Canha says the Kwid should be here in the first week of November. However, "massive demand" in India, where the Kwid sells around 8 000 units a month, may see the small car's debut inch to early next year.
Renault SA is "extremely excited" about launching the Kwid – with a three-star safety rating and one airbag – in the local market, says De Canha.
He says new-car price inflation of between 9% and 10% a year, compared with wage inflation of 4% to 5% a year, have managed to push the entry-level vehicles of ten years ago, such as the Yaris and Clio, out of range for the average wage and salary earner.
"Salaries can't keep up with the rand's deterioration," notes De Canha. "We are hoping for some form of stability within government so that we can all get on with the job of growing the economy."
He believes the Kwid will eventually sell volumes similar to the Clio and Sandero in South Africa. He remains weary of promising bigger numbers owing to weak loan approval rates in the entry-level car market.
Another Renault newcomer, although only scheduled to make its debut in late 2017 or early 2018, is the Alaskan one-ton bakkie.
It was originally scheduled to make its debut by the end of this year.
The Alaskan shares a platform with the new Nissan Navara.
Nissan appears poised to make an announcement on local Navara production later this year.
This may enable Renault SA to also assemble the Alaskan at Nissan South Africa's Rosslyn plant, near Pretoria, says De Canha.
"We want to build the Alaskan in South Africa."
Another bakkie to be introduced to Renault SA's product portfolio may be the Oroch, a small double-cab built on the Duster platform.
Assembled in Brazil, Renault SA has been working hard to secure the Oroch in right-hand drive for the local market.
A struggling Brazilian economy desperate for factory volumes may have provided the necessary impetus for the South African debut of what could be one of the most affordable double-cab bakkies on the market.
"I am reasonably confident we can launch it next year," says De Canha.
He adds that he is pleased with Renault SA's performance year-to-date "in a very tough market".
While Renault's new-car sales year-to-date are down 3.6%, to 11 232 units, market share has grown from 4.3% to 4.7%.
One model Renault SA hopes will add further to the company's growing market share this year is the new Mégane C-segment hatchback.
Pricing for the fourth iteration of the Mégane starts at R279 900.
There are four model choices. Top of the petrol-powered line-up is the GT model, powered by a new-generation 151 kW, 1.6-l turbocharged engine, producing 280 Nm of torque from 2 400 rpm. The GT also has a seven-speed dual-clutch auto gearbox, plus Renault's 4CONTROL chassis four-wheel steering system.
Other GT features and fitments include leather seats, 18-inch alloy wheels, electronic parking brake and paddle shift.
The two New Mégane GT-Line variants are powered by Renault's 97 kW, 1.2-l turbo engine.
There are two transmission options, namely the seven-speed dual-clutch auto gear box, or a six-speed manual gear box.
The entry-level Mégane Dynamique model is powered by Renault's 84 kW, naturally aspirated 1.6-l engine and mated with a five-speed manual gear box.
Standard features on all models include cruise control with speed limiter, dual-zone air-conditioning, heated mirrors, tyre pressure monitor, hill-start assist, auto lights and rain sensors, front fog lights and hands-free keyless entry.
The standard seven-inch touchscreen with navigation on the Dynamique is upgraded to an 8.7-inch touchscreen with navigation from the GT-Line onwards.
The Mégane has a five-star safety rating.
The Megane line-up comes standard with a 5-year/150 000 km mechanical warranty and a 6-year anticorrosion warranty. Also standard is a 5-year/90 000 km service plan.