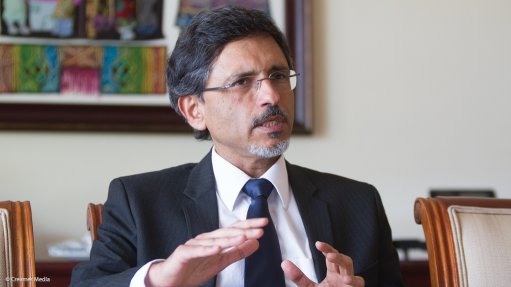 Trade, Industry and Competition Minister Ebrahim Patel
Photo by: Creamer Media
The development of regional value chains across Africa presents an opportunity to create market linkages between regions, integrate critical supply chains and replace some products that are currently being imported from outside of the continent, said Trade, Industry and Competition Minister Ebrahim Patel.
"The African market represents a R7-trillion market opportunity for goods that can be manufactured on the continent. However, for these opportunities to materialise, there is a need to resolve the structural constraints that may prevent Africa and South Africa from seizing the opportunities presented," he noted during his keynote address to the 2021 Manufacturing Indaba on November 22.
The most critical of these constraints were energy supply, energy prices and the efficiency of logistics systems, including rail, roads and ports. Businesses must also invest in measures to improve competitiveness and dynamism of local firms, he said.
There are enormous opportunities and challenges for manufacturing on the continent and specific interventions can be pursued to unlock these opportunities in South Africa and the rest of the continent.
These opportunities have presented themselves in the pharmaceuticals sector in the production of medical-grade face masks, ventilators and hand sanitisers, besides other product lines, Patel said.
For South Africa, local and regional market opportunities have seen fuel cell production at the Dube TradePort, in KwaZulu-Natal, and commitments by global automotive manufacturers such as Ford Motor Company and Mercedes Benz, which have continued to expand the production of flagship models in South Africa.
"These advances contribute to the commitment with social partners to reduce non-oil imports. Seven industry master plans, covering 800 000 workers, continue to form a critical element of our reimagined industrial strategy, based on industry-level commitments by different actors to rebuild our industrial base.
"We are on the cusp of a potentially great renewal in local manufacturing that can drive increased output and competitiveness – what we call re-industrialisation," Patel enthused.
Further, he cited challenges related to red tape and bureaucracy, challenges in the provision by local authorities of basic infrastructure and services and the challenges of shop-floor conflict, as well as the kind of social instability observed in July of this year in parts of KwaZulu-Natal and Gauteng.
"With regard to shop-floor conflict, this can be moderated through worker ownership via employee share ownership programmes and better transparency on firm level pay practices, which are a critical feature of company regulatory amendments being proposed by the Department of Trade, Industry and Competition (DTIC)," he emphasised.
Further, the risk of rising prices as companies gear up for localisation opportunities through policies being pursued by the DTIC under the auspices of the Economic Reconstruction and Recovery Plan (ERRP) will sap public support for localisation.
"Government has introduced reciprocal commitments attached to tariff increases or rebates of duties, which include commitments by affected firms not to raise prices," he said.
"Localisation is not a replacement of the need for greater competitiveness among and within South African firms, but an avenue to lift the rate of growth and stimulate specific economic activities through promoting technology, innovation and competitiveness.
"This recognises that prices of final and intermediate goods influence firms and households' economic decisions and, by extension, the pace and scale of our economic recovery," Patel said.
He called on industry body the Manufacturing Circle to play a strong advocacy role among local industrialists to focus on the long-term view, namely to capture market share through competitive prices and quality.
"Our efforts to deepen industrial performance and competitiveness, can be assisted by development finance institutions such as the Industrial Development Corporation and the National Empowerment Fund, and the support schemes offered by the DTIC.
"These include measures that promote local production, investments and exports and through competition policy and a reform of business regulation, and measures aimed at making South Africa a vibrant place to undertake trade and investment.
As manufacturers and government, through collaborative partnerships, we can influence outcomes in the marketplace of variables that are not fully within our control, if we work together.
"We can grasp the opportunity and begin the journey to being a dynamic industrial nation, but we can easily squander the opportunity with manufacturing output declines measured as a percentage of our gross domestic product output – in other words, de-industrialisation," he warned.
The DTIC stands ready to ensure these measures and partnerships support and reinforce one another in efforts to bring dignity to millions of South Africans through the creation of value and job opportunities, Patel concluded.