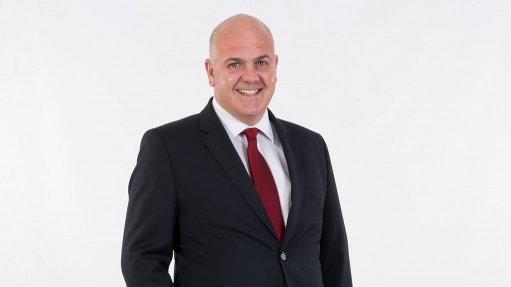 Redefine's Andrew Konig and Leon Kok discusses the company's interim results during a virtual briefing on December 1. Video: Creamer Media's Kutlwano Matlala. Editing: Creamer Media's Nicholas Boyd.
Real estate investment trust (Reit) Redefine Properties says it is "well placed" to benefit from logistics growth in Poland after hard lockdown restrictions and dividends withheld by offshore investments "significantly dampened results" for the financial year ended August 31.
Tough trading conditions locally, in South Africa, and internationally, brought on by Covd-19, resulted in a 49% year-on-year decrease in Redefine's distributable income per share to 51.5c.
Total revenue, however, showed a marginal decline of 0.1% and signs of green shoots have started to appear, especially as collections from tenants increased to 96% and 97% of billings during September and October after averaging only 84% during the worst of the Covid-19 crisis earlier this year.
Redefine CEO Andrew Konig says the company intends to continue streamlining its asset platform and strengthen its balance sheet to withstand ongoing volatility and uncertainty, while simultaneously "ensuring it is poised to benefit when conditions improve".
Meanwhile, Redefine's offshore asset base, valued at R15.6-billion, compared with diversified local property assets of R65.4-billion, continues to provide adequate geographic diversification.
Redefine is also busy building a pipeline of opportunities in the Polish logistics space as it continues to exit the Australian market.
"We have put in the hard work and are making great strides towards building tangibly for the medium term. We are leveraging off operational efficiencies, making significant inroads in reducing our loan-to-value ratio, being ruthless rather than reckless in right-sizing our asset footprint, and are set to benefit from growth in Poland," says Konig.
Redefine is still expanding despite constraints to the capital base and see a lot of opportunity in logistics in Poland, based on the impetus placed by the government on infrastructure investment, "but also thanks to growing demand for warehouse space as more people move to e-commerce channels," he adds.
He highlights that Redefine is not distressed from a cash point of view and has "a lot of liquidity to come our way, having concluded disposals totalling R13.4-billion, of which only R7.1-billion was banked in the 2020 financial year.
During the year, local property disposals realised R894-million, the exit from RDI Reit raised R2.3-billion and the residual investment in Cromwell was sold for R674.6-million.
Redefine's top priority during the year under review was to address the group's loan-to-value (LTV) ratio, CFO Leon Kok comments.
"Our LTV improvement initiatives – which included being the first South Africa Reit to implement a dividend payout policy and exiting non-core investments in the UK and Australia – yielded an LTV reduction of 5.7%. However, the destructive impact of Covid-19 had the opposite effect on asset values, increasing the LTV by 7.8% – negating the improvement initiatives," he sais.
"Work on the LTV is therefore not yet done, and to achieve a sub-40% LTV by August 2021, will require further initiatives. A clear pathway has been set to achieving this target, involving further optimisation of the property asset base, limiting the cash outflow from dividends, as well as the completion of the sale of our interest in Journal's two student accommodation properties in Australia," he elaborates.
In the interim, Redefine's board has deferred a decision on the declaration of a dividend until February 2021, as it is working on a mechanism to ensure there is no adverse impact on LTV from the payment of a dividend.
This is subject to the requisite regulatory approvals, and shareholders will be informed as soon as this has been concluded, with full details on the timeline and structure to be provided.
"I believe we have set a new floor on our asset value to sustain value creation going forward, having recorded core asset valuation write-downs of R9.8-billion," says Konig.
However, Redefine's local property portfolio performance was still heavily impacted by the restrictions imposed by government to curb the spread of the virus. Kok says rental relief packages to support the sustainability of tenants amounted to R318.5-million, while the provision for credit losses has increased by R310.4-million in the financial year under review.
Kok reported that the active portfolio vacancy rate increased during the period to 7.4% from 5.1% in the same period last year, while the tenant retention rate was 90.8%, from 92.2% a year ago.
NEW APPOINTMENT
Redefine has appointed Ntobeko Nyawo as the company's CFO from March 1, 2021, which provides Kok the opportunity to take over as COO from David Rice, who recently retired.
A seasoned executive and qualified chartered accountant with over 16 years' experience, Nyawo joins Redefine from Stanlib, where he currently serves as COO.
Prior to this, he was CFO of Alexander Forbes Emerging Markets, where he was responsible for driving African expansion in partnership with the CEO.