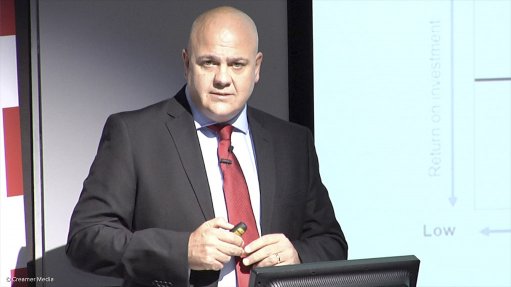 JSE-listed real estate investment trust (Reit) Redefine Properties has lifted its distributable income for the financial year ended August 31 by 4% year-on-year to 101c a share, with total group assets exceeding R100-billion for the first time.
Moreover, this marks the first time that full-year distributions a share have breached the R1 level.
Redefine continued to benefit from a well-diversified portfolio and expansive geographic footprint, with the contribution to distributable income from international property investments rising to 26.8%, compared with 24% in the 2018 financial year.
Redefine expanded its property assets under management to R95.4-billion from R91.3-billion in the previous year, while international real estate investments now make up 23.7% of the portfolio, from 20.7% before.
Redefine expects property fundamentals to remain weak over the medium term, with risk events like load-shedding adding to the uncertainty.
As such, it is focusing on reducing balance sheet risk while still delivering sustainable quality earnings, Redefine CEO Andrew Konig said in a statement on Monday.
During the year under review, Redefine improved its total tenant retention to 93.3% from 90.4% in 2018, while its active portfolio occupancy was maintained at 94.9%.
Presenting the results at the JSE on Monday, Konig indicated that this was a "fantastic" rate in the current environment.
He also mentioned that the net tangible asset value had declined by 33c a share to 943.9c for the period.
The loan to value (LTV) ratio increased to 43.9%, which Konig noted was "high and outside our comfort zone." To lower this, Redefine was recalibrating to an environment of scare and costly capital, through a number of initiatives.
Looking to 2020, through rightsizing the asset footprint to capital case, the company is hoping to bring the LTV ratio back to its comfort zone of 35% to 40%.
Konig further said the focus for 2020 would be on asset quality, offshore expansion through development activity – notably through expanding the group's European logistics platform – while taking action to restore the value of underperforming assets.
"We have to still grow where we see opportunities and not halt investment. However, we need to be more discerning and selective with our capital allocation and proactively seek out recycling opportunities for our noncore assets," he indicated.
In a move to build a sustainable capital structure, Redefine has introduced a dividend payout policy to add another source of funding, as aligned to international Reit best practice and pitched at a level that poses no tax leakage.
Konig indicated that Redefine saw this as a third source of funding.
With a six-month dividend of 48.1c apiece being declared, the payout policy amounts to 93% of distributable income, which is a retention of around R200-million in cash to fund operational expenditure.
During the year, R6.9-billion was deployed into property assets, with local development activity totalling R2.4-billion. Offshore expansion totalled R4.3-billion, with R3.6-billion invested in Poland.
At the same time, 17 properties with gross leasable area of 160 076 m2, which no longer served Redefine's investment criteria, were disposed of to various buyers for an aggregate consideration of R1-billion, at an average yield of 8.2%.
Redefine FD Leon Kok said the average cost of debt was now 5.8%, compared with 6.3% in the prior year, while interest rates were hedged at 87.3% of total borrowings for an average period of 2.9 years.
Environmental impact remains a key theme and, during the year, carbon emissions savings from Redefine's solar installations equated to taking about 6 300 passenger cars off the road.
Konig noted that solar power accounted for about 5% of Redefine's total energy consumption.
Further, he indicated that Redefine was looking at expanding external waste management to office buildings as part of its Green Star programme. The company is also aiming to reduce water consumption, by continuing to install various technologies such as online monitoring and leak detection, smart shutoff valves and sensors in bathrooms.
Also, in the company's office portfolio, green star rated buildings increased to 74, with the company planning to add a further 20 buildings to this list in the new year.
Despite the challenging trading environment, Redefine expects to deliver distributable income per share similar to that of 2019 for the 2020 financial year, and anticipates the payout policy to be maintained at a similar level.
While Redefine founder Marc Wainer retired in August, Redefine has also zeroed in on improving board independence, with the appointment of Daisy Naidoo as an independent nonexecutive director adding to its diversity and skills base.
Fifty per cent of the board members are female and 88% of the nonexecutive directors independent.