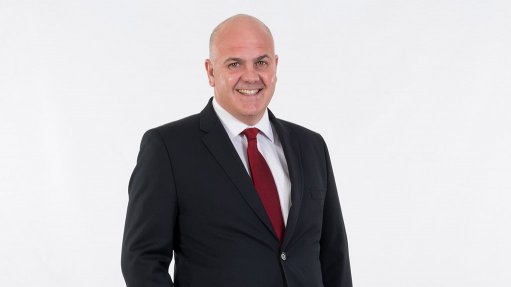 Redefine CEO Andrew Konig
Managing risk through a streamlined, more focused offshore asset platform and zoning in resolutely on high-quality, well-located domestic assets have helped real estate investment trust (Reit) Redefine Properties lay the foundations for future growth once Covid-19-related uncertainty and volatility slows.
CEO Andrew Konig, however, told investors during a pre-close briefing on August 24 that "property fundamentals are going to be challenged for the rest of 2020 and beyond" owing to unprecedented and evolving market conditions.
The pre-close briefing focused on the company's financial year, ending August 31.
Redefine's asset platform has been significantly adjusted for prevailing conditions, and the company is now more focused on a single external geography offshore − Poland.
Konig said the combined portfolio in the country – retail and logistics – would reduce the company's risk profile, improve its liquidity position and ease its loan-to-value ratio, which has been under a lot of a pressure.
"The hard work done to rightsize the footprint of the capital base has provided space to expand development activity in the logistics sector in Poland, which is offering attractive investment opportunities in an expanding market, which is expected to yield capital growth from further yield compression," he adds, noting that the European logistics platform is expected to grow significantly through exciting new opportunities on Redefine's doorstep, funded through its equity partnership with Madison.
Two recently completed developments in Poland of over 40 000 m2 add to a further pipeline of seven projects of just over 189 000 m2, which are 75% pre-let at an average income yield of 7.1%, and all funded via proceeds from the Madison transaction.
Further, the sale of Redefine's stake in UK fund RDI Reit for R2.3-billion in June has enabled it to focus on local and East European investments, with other recent changes streamlining the business including the sale of its 90% interest in two Australian student accommodation facilities, as well as its residual interest in Cromwell Property Group.
Further, the elimination of nonrecurring income also comes on stream through the acquisition of 100% of the equity value in M1 Marki from Chariot for €122.8-million. Redefine now owns only 25% of Chariot, which it intends to dispose of as part of the transaction to settle the bulk of the M1 Marki purchase consideration.
CFO Leon Kok, meanwhile, told investors that the early action taken to strengthen its balance sheet and sell noncore assets means that Redefine now has undrawn access to about R3.8-billion in cash, while also having liquidity headroom to absorb as much as a 50% rental decline and 100% dividend withholding from foreign investments.
"We have not yet seen a dramatic loss or material increase in lease cancellations, which is why our attitude towards rental relief has been generous. While we realise there may be short-term pain, our emphasis remains on sustainability as we would rather retain tenants for the long term," Kok said.
He added that stringent liquidity and risk management practices, which were established well ahead of Covid-19, now stand the company in good stead. "We are fortunate to have sufficient headroom to absorb headwinds if the recovery is slow."
Kok further noted that rental relief in the second half of the financial year had amounted to about R270-million, with an increase in rental arrears of about R400-million over the five months of the various levels of lockdown.
Average cash collections over the period amounted to about 82% of monthly gross billings.
However, the brunt of this occurred during the hard lockdown in April and May and it has since "recovered to some extent".
Embracing its commitment to sustainability, Redefine said it had supported its suppliers, despite not being in receipt of any or receiving only limited service delivery, such as cleaning and security services, so "they did not have to suffer layoffs".
"This has ensured our relationships remain entrenched and places us in a strong position to continue providing high quality services during and after the lockdown," said Kok.
However, he emphasised that the next three months remained critical, "as the economy and property market is not out of the woods yet".
The company's focus, therefore, remained on keeping liquidity levels bolstered, focusing on cutting back on non-essential expenditure, while still supporting tenants through rental relief.
Following recent news that Redefine disputed the validity of the put option exercised by property investment and development company Zenprop and RMB to sell the Mall of the South, Konig confirmed that the parties were engaged in "constructive discussions" to resolve the dispute, which were expected to result in a mutually satisfactory outcome for all.
During the pre-close briefing, Konig confirmed that discussions were under way, and that the resolution "will be one where all parties are comfortable".
A decision is likely expected within the next week, he added.
Locally, Konig says the company has "done very well at working from home", leveraging off its information technology platform and instilling a culture of innovation and learning.
"Our early commitment to refreshing our values, culture and focusing on our people has seen us make great strides in facing and overcoming this crisis together," he says.
"Our purpose remains to create and manage spaces in a way that changes lives and we have, for instance, heightened our focus on [environmental, social and corporate governance] initiatives to further protect property values," said Konig.
Additionally, renewable energy remains a key strategic focus for the company, with capacity expanded to 25.9 kW during the period. Redefine intends to continue ensuring the rollout of green energy and looks to, at the end of this financial year, have 100 office properties that are Green Star rated.