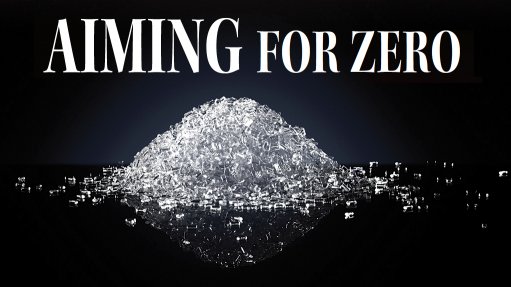 Industry body Plastics South Africa (SA) believes that its sustainability objective, dubbed 'Zero Plastics to Landfill by 2030', which was launched in February last year, is both realistic and achievable. The organisation says the goal, which will be pursued in phases, will rely heavily on improved access to solid waste streams, with separation at source viewed as increasingly critical to bolstering recycling rates.
Plastics SA executive director Anton Hanekom says the rising cost of landfill space places recycling at the top of the agenda for all packaging streams and that its sustainability initiatives are, thus, focusing on developing strategies that will enable the plastics industry to increase recycling rates.
Government is also supportive, but Environmental Affairs Minister Edna Molewa believes that waste as a resource remains neglected, notwithstanding rising volumes and advances in technology.
Speaking during the National Waste Manage- ment Summit in March, the Minister argued that current waste management practices were inadequate and urged stakeholders to pursue innovative ideas to improve waste management systems and drive the recycling economy.
Molewa said the country should move towards implementing Department of Environmental Affairs (DEA) policies and waste management strategies, which had been designed to encourage reuse, recycling and recovery, with disposal of waste at landfills being a last resort.
The DEA was working with provinces, municipalities and industry to ensure that the economic benefits emanating from recycling waste were realised and that the country moved away from dumping recyclable waste at landfill sites.
Plastics SA hopes that higher recycling rates will positively affect the economy, resulting in the initiation of programmes that will enhance locally manufactured plastic goods, create employment, in line with the National Development Plan (NDP), and increase consumer partici- pation in the recycling process.
Key Drivers
Plastics SA has identified seven key aspects of improvement and development to align the plastics industry's objectives with the sustain- ability objective of the NDP.
These areas are: developing an effective infrastructure across the value chain, ensuring ongoing research and development into new technologies and markets, establishing credible data sources and information sharing across the value chain, developing skills to enable technology and infrastructure, changing and improving consumer understanding and behaviour regarding recycling and waste disposal, developing industry collaboration towards the outcomes envisioned by Plastics SA, and ensuring constructive and effective engagement and collaboration between industry and government.
To achieve these goals, Plastics SA has envisioned a phased development of the initiative to 2030 – the foundation-setting phase (2014 to 2017), the building and innovation phase (2018 to 2020) and the optimising phase (2020 to 2030).
During the foundation-setting phase, Plastics SA's objective is the uniform operation of the plastics industry and the provision of infrastructure guidelines that need to be followed by all stakeholders, as well as the establishment of a research and development plan, and the development of a mixed plastics recycling technology that will foster the success of this phase.
Additionally, the phase will include the development of an industry statistics tool and a government engagement plan; life-cycle assessments of plastics; the implementation of a skills map and government training for stakeholders; recycling labels on plastic products sold to get consumers involved; and the initiation of clean-ups.
The building and innovating phase will aim to put waste-to-energy solutions in place, trigger the building of recycling centres, provide statistics and life- cycle assessments to inform industry of the progress of the initiative, foster ongoing collaboration with government, increase collaboration to include other packaging companies and designate trained waste-management officers appointed by government to different recycling centres.
The optimising phase will greatly emphasise the recycling rates and put solutions in place for all remaining waste, implement recycling campaigns across the country, and optimise government and industry collaborations.
Recycling Initiatives
To further strengthen the initiative, recycling company Petco's largest contracted recycler, Extrupet, has aligned itself with the Zero Plastics to Landfill by 2030 initiative following the launch of its Bottle-to-Bottle Recycling Plant, in Wadeville, Germiston, last week.
The new facility will supply an additional 14 000 t of polyethylene terephthalate (PET) resin a year to the PET packaging industry and will eventually divert an additional 22 000 metric tons of postconsumer PET bottles a year from landfills. In this way, jobs can be created and landfill space can be saved, which is in line with the Waste Amendment Act's objective.
In the last decade, Petco has increased PET recycling rates in South Africa from 16% in 2004 to 49% by the end of 2014. This rate is set to rise in 2015, with a target of 50% being chased.
Moreover, the facility will also allow Petco to meet its recycling target of 70% by 2022, which is an estimated growth amounting to 170 000 t of PET bottles being recycled.
Acknowledging the facility as being a milestone in the drive towards increasing the recycling rate, Hanekom draws on statistics released by the South African Plastics Recycling Organisation last year on behalf of Plastics SA to emphasise the need to continue recycling initiatives in order to reach the 2030 target.
"Since 2009, the amount of [plastic products] manufactured in South Africa has increased by 34% to 1.4-million tons a year. In 2013, 20% of the plastic waste produced was recovered and recycled either locally or internationally. This amounts to 280 000 t of plastic being diverted from landfill, which reflects a 4.1% increase on the previous year," he says.
Moreover, Hanekom points out that almost 80% of plastic waste recycled in South Africa during 2013 was derived from plastic packaging, resulting in an 8.9% increase from 2012. However, the industry failed to reach its 40% recycling rate target in 2013, which, he notes, was as a result of the economic recession in 2013.
This has also led to a 10.6% decrease since 2012 in formal employment created through plastic recycling. Of the 4 510 formal jobs supported by the plastics recycling industry in 2013, 7.7% were contract workers. These workers were involved in the sorting of waste on a full-time basis and were paid for their output and did not earn a set wage for time spent on the job.
Additionally, the research indicates that the amount of plastic waste collected from households and businesses in 2013 increased, with recyclables sourced from landfills and other postconsumer sources also having increased from 59% in 2012 to 66% in 2013.
Economic Benefits
The Recycling and Economic Development Initiative of South Africa (Redisa) says that exploring ways in which plastics can create a circular economy through collaboration between the public and private sectors can assist the plastics industry in reaching its target.
"By involving all stakeholders, government and the private sector, the Redisa tyre industry circular-economy model is working," says Redisa director Stacy Davidson.
She adds that tyre manufacturers and importers are taking responsibility for their waste without losing sight of focusing on their core business; unemployed people are finding gainful employment as small, medium-sized and micro- enterprises are being developed and supported by the Redisa integrated industry waste-tyre management plan (IIWTMP); and the significant environmental threat that waste tyres represent is effectively being addressed.
The Redisa IIWTMP, approved by Molewa in 2012, states that tyre producers (manufacturers and importers) are charged a waste management fee of R2.30, excluding VAT, on every kilogram of new tyre rubber produced. The funds collected are then used to develop and support the collectors, storage depots, recyclers and secondary industries that manufacture other products from recycled output.
Davidson indicates that the principle of recycling and reusing waste is a solution for not only waste tyres but also other waste streams, such as packaging and general waste. "This can help Plastics SA to deal with the plastic waste issue."
Moreover, the Minister indicated during the summit that the National Environmental Waste Amendment Act of 2014 aimed to increase institutional capacity for managing waste streams and put mechanisms in place for the proper pricing of waste.
"This amendment outlines the method for the pricing of waste streams to ensure that funds are collected to promote the recycling economy. We all agree that diverting waste from landfill sites requires infrastructure, which must be funded," she stated.
Therefore, Molewa noted, government had to intervene to put mechanisms in place for the provision and coordination of this infrastructure and ensure that South Africa started to capitalise on the benefits of waste management.
Promoting Local Market
Plastics SA sustainability director Douw Steyn mentions that the plastics industry is also considering the stimulation of economic growth by increasing exports and replacing imported plastic products with locally manufactured products that can be manufactured from recycled and reused plastic waste. This will not only be in line with the goals of the NDP but also promote the local plastics industry.
"South Africa has a relatively small plastics market with no strong 'Buy Local' drive from consumers. Therefore, we are working on increasing exports into Africa as part of our regional integration strategy, which will enable the plastics industry to take advantage of markets," he explains.
Steyn points out that, over the past 15 years, plastic imports from Asia, particularly China, India and South Korea, have increased signifi- cantly, resulting in the closing down of local plastics manufacturing businesses, such as medical syringe manufacturers.
He says imported plastic products from Asia are significantly cheaper, but lack the quality of and are of a lower standard than those manufactured locally.
However, Steyn says, because consumers are under financial pressure, they often select the cheapest option, which impacts on the local industry, as more imported products result in fewer jobs in South Africa.
Owing to the increase in plastic imports, Plastics SA is also focusing on improving innovation and skills development in the industry.
"We need to be more creative with regard to the type of products we manufacture in South Africa," he states, adding that most plastic products are commodities, such as bottles and bags, and that there is a lot of local competition regarding the manufacturing of these products.
"As a result, we need to think about how niche products can be created so that they can be exported. In so doing, value is added on the locally produced product, which is linked to skills development," Steyn explains.
Although the industry will consider recycling as the first choice of dealing with plastic waste, Plastics SA has also considered the waste-to-energy recovery option, which can help save natural resources, he says.
"Also, this can support the objectives of saving landfill space, reducing litter, saving energy and reducing carbon dioxide emissions," he concludes.