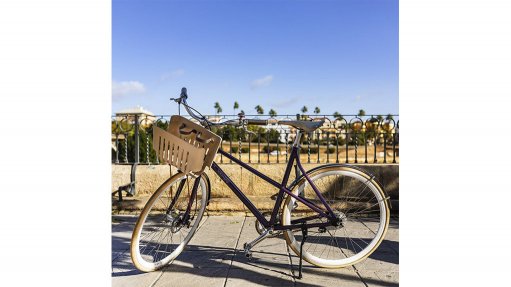 THINK BIKE For every Vélosophy bike sold a second bike will be donated to a developing country in an effort to aid poverty relief
Global food and beverage company Nestlé Global's brand Nespresso has announced the launch of its fully recycled aluminium bicycle the RE:CYCLE – part of its drive to remain at the forefront of a circular economy and demonstrating its commitment to recycling.
Aluminium is one of the world's most valuable resources because it can be remelted and reused infinitely, allowing craftsmen to give waste a second life. The world is becoming increasingly aware of the origin of its valuable resources and the impact they have on the environment.
Nespresso partnered with Swedish lifestyle bike brand Vélosophy to produce a bicycle made from recycled aluminium coffee capsules.
The company boasts that the RE:CYCLE is a perfect balance of sustainability and style, designed to illustrate the potential of recyclable aluminium and motivate Nespresso fans to recycle its capsules.
Nespresso has invested in encouraging customers to recycle their Nespresso pods, which have previously been reincarnated as knife manufacturer Victorinox Swiss Army knives, decorative pens, and new coffee capsules. However, these efforts, which come at a time of increased criticism of single-use products, have yet to be fully embraced by customers.
"However, through our collaboration with Vélosophy, we're illustrating to coffee lovers the potential of recycling their aluminium Nespresso capsules," says Nespresso CEO Jean-Marc Duvoisin.
He adds that by using recycled capsules to make beautiful bicycles, Vélosophy bring sustainability and style together to create a truly meaningful experience, bringing to life the importance of recycling.
"We have been inspired by working with Vélosophy, and I hope the RE:CYCLE bicycle inspires people to recycle," he adds.
Vélosophy CEO and founder Jimmy Östholm says Vélosophy was created with a clear purpose – to have a positive impact on the world. This purpose drives everything the company does, from its promise to give a bike to a schoolgirl for every Vélosophy sold, to producing its stylish city bikes from recycled aluminium.
"I see in Nespresso a strong commitment to sustainability, which is why this has been the dream partnership. We are proud to have co-created a bike that takes on the future. It is beautifully designed, responsibly sourced and sustainably produced," adds Östholm.
The limited edition Vélosophy RE:CYCLE bike is an icon of circular economy design. Created for conscious-living coffee lovers using the aluminium from recycled Nespresso capsules, Vélosophy have reimagined its classic model in bright purple in a nod to Nespresso's popular Arpeggio coffee.
The RE:CYCLE boasts a capsule-shaped bell and cup-holder basket giving clients the chance to enjoy their favourite drink on the go.
About 1 000 RE:CYCLE bikes were made available from August exclusively from Vélosophy's ecommerce platform velosophy.cc, priced at about R21 000, which includes shipping costs.
Notably, Vélosophy is the only bicycle brand globally with a full one-for-one promise: for every bike they sell or rent out, another is given to a schoolgirl in Africa to improve her access to education. For every RE:CYCLE bike created by Vélosophy in partnership with Nespresso, another bike will be donated to a girl through nonprofit organisation World Bicycle Relief.
World Bicycle Relief is an international organisation based in Chicago, in the US, that specialises in large-scale, comprehensive bicycle distribution programmes to aid poverty relief in developing countries around the world.
Nespresso opened its first recycling scheme in Switzerland in 1991 and invests some SFr 40-million a year in the programme. Currently, the scheme is available in more than 53 countries and gives coffee-lovers a range of options for convenient recycling of their used capsules, from a network of more than 100 000 drop-off points to door-step collections and mail-back schemes.
South African recyclers can drop off their pods at any Nespresso boutique as well as at handy collection points found at the V&A Waterfront Canal Walk, Cape Town, Sandton City in Sandton, Johannesburg, the Menlyn Shopping Centre, Pretoria, and Gateway shopping centre, in Durban.