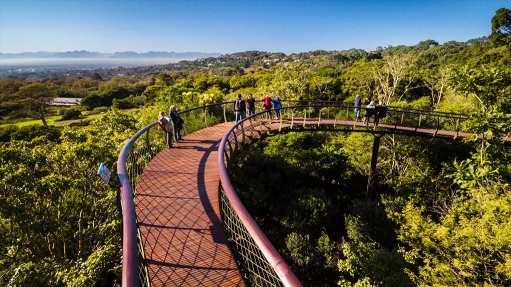 EXCELLENT INVESTMENT The Kirstenbosch Centenary Tree Canopy Walkway in Cape Town is one of the more eye-catching entries at this year's steel awards
The record number of light steel frame building (LSFB) project entries for the 2015 Steel Awards is a sign of the growing impact that LSFB is having on the steel construction and building industries, says steel construction industry body the Southern African Institute of Steel Construction (Saisc).
The awards will be held simultaneously in Johannesburg, Cape Town and Durban on September 3.
Saisc says no fewer than 36 LSFB projects were submitted, which comprises nearly half of the total number of steel projects entered. The entries were submitted by six Southern African Light Steel Frame Building Association (Sasfa) members, with the largest number coming from LSFB construction group Silverline.
Sixty-five per cent of the total entries are projects in the Western Cape and Gauteng, while 50% of the LSFB entries are residential projects, with 40% comprising commercial, school, office and hospital buildings and the rest comprising industrial projects.
The residential projects range from upmarket houses in the Western Cape, Gauteng and KwaZulu-Natal to a retirement village in Klerksdorp, in the North West, and upper-floor additions to houses in Clifton and Camps Bay, in Cape Town.
McDonald's won the LSFB category last year. This year, a further seven McDonald's outlets were submitted by Silverline. Once again, the speed of construction was the key advantage offered by LSFB in this market, with other players in the fast food market also seeing the benefit – KFC and Burger King also submitted their entries for the commercial projects category.
Meanwhile, Sasfa director John Barnard says the judges were impressed by the low mass of the LSFB roof structures submitted, with the steelwork for these structures weighing around 7 kg/m². "It also offers logistical advantages, and the low mass makes erection an easy and efficient task," he says.
Barnard further highlights that more than 40% of the LSFB projects entered contained some heavy structural steel as well.
Steel Awards 2015 convener Spencer Erling says that, overall, it has been a bumper year for the steel awards, with over 80 entries received in total.
Erling says the LSFB entries are impressive in both quality and quantity and that there are some outstanding submissions, including the high-profile Kirstenbosch Centenary Tree Canopy Walkway project, otherwise known as the 'boomslang' project, in Cape Town's Kirstenbosch Gardens.
"Imagine the complexity of laying out a 140-m-long, horseshoe-shaped bridge through a forest of growth to miss existing trees, not only at ground level but also up in the sky," he says.
Erling adds that, in a most unusual approach, the 8 mm diamond- pattern balustrading forms an integral part of the structure that literally crawls out of the growth in parts to open up a vista over the botanical gardens, with a view of Table Mountain as the backdrop.
"Moreover, the bridge has been an excellent investment. It has generated great public interest, boosting the number of visitors to the botanical gardens by 30%, thus paying off the capital investment in its first year."