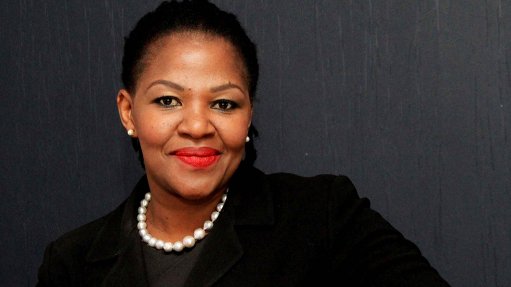 RBCT chairperson Nosipho Siwisa-Damasane
RICHARDS BAY (miningweekly.com) – Despite a loss of 38 days to bad weather, 2017 has been a record-breaking year for South Africa's Richards Bay Coal Terminal (RBCT) in Kwazulu-Natal, which loaded a record 76.47-million tonnes of South African-mined coal in the 12 months to the end of December.
The private sector terminal, which is 29.54% black owned and 6.52% black women owned, loaded 3.9-million tonnes more coal, a 5.1% increase on 2016 and a 1.4% improvement from the previous record of 75.38-million tonnes in 2015.
At a media briefing in which Creamer Media's Mining Weekly Online took part, RBCT chairperson Nosipho Siwisa-Damasane praised CEO Alan Waller and his 489-employee team for doing a sterling job in the face of unprecedented weather setbacks, which resulted in a large number of 36 ships having to queue up at the port during May, and vessel line up continuing during June and July.
RBCT receives railed locally mined coal from State-owned Transnet Freight Rail, RBCT stackers allocate the coal to 98 stockpiles, RBCT reclaimers extract 42 different grades of coal from the stockpiles, RBCT shiploaders load that coal on to waiting vessels at the port operated by the State-owned Transnet National Port Authority, and the vessels then transport the coal to destinations around the world.
RBCT has the capacity to load 91-million tonnes of coal and Transnet Freight Rail has the capacity to deliver 81-million tonnes.
Eighty-one per cent of the coal loaded at RBCT during 2017 was delivered to India, Pakistan and South Korea, 10.1% to Europe and 7.8% to Africa.
Six fewer vessels called in 2017, 907 compared with 913 in 2016.
Targeted in 2018 is the loading of 77-million tonnes.
The coal-exporting companies range from large coal majors to small mining juniors that form part of the four-million-tonnes Quattro junior mining export entitlement, of which less than half was taken up.
South Africa's who's who of coal mining are among the 18 co-owning exporting entities, which include Anglo Operations, African Rainbow Minerals Coal, Exxaro Coal, Glencore Operations South Africa, Sasol Mining, South32 Coal South Africa, Tumelo Coal Mines and Umcebo Mining.
The R1.34-billion phase-one machine replacement project, led by RBCT GM projects Bill Murphy, is on the cusp of ultra-smooth completion.
Both new shiploaders are in operation, without any disruption to those they are replacing, and two new rail-mounted stacker-reclaimers are close to commissioning without a hitch in sight.
The replacement of 40-year-old equipment has taken place without hindering RBCT's record-breaking 2017 accomplishment and RBCT has publicly acknowledged the good performance of Chinese company TZME and Sandvik Mining Systems.
The Global Ports Forum last year awarded RBCT the bulk logistics terminal of the year and the Zululand Chamber of Business declared RBCT the most efficient water user of the year.
The close co-operation between the State and private sector entities was evident at the media briefing.
"We're joined at the hip and we rely heavily on each other," Waller told the many journalists present.
On the proposed new efficiency-enhancing Swazi rail link, Transnet Freight Rail COO Lloyd Tobias said the project was progressing and that a memorandum of understanding had recently been signed with the African Bank and the State-owned Industrial Development Corporation.
Swaziland had acquired land along which Transnet would install rail and had taken steps to relocate graves, for which Transnet had invited tenders.
"Everything is on track," said Tobias of the project for which private investment will be sought.
In the Waterberg, he said steps were being taken to upgrade the rail line to accommodate 26 t axle load, which would open the way for the transport of an additional ten-million tonnes of coal to RBCT.
He said that the Botswana link to the Waterberg involved Botswana building 140 km of rail and Transnet 40 km, a project that would provide capacity for another 32-million tonnes of coal for the line.
Tobias said in response to Mining Weekly Online that Transnet Freight Rail, currently ranked number nine in the world, was aiming to be among the world's top five railways.
"We've been benchmarking against the best, and we've done some visits to learn from the best. Something that we're looking at is operating ratio, and we're trying to get into range with the top rail performers," he said.
The acquisition of new locomotives by Transnet Freight Rail had resulted in the new fleet only going into workshops every 90 days, which was lowering cost, lengthening distance travelled and improving turnaround times.
"What we've seen is that the heavy-haul lines are running at best practice. Where we're doing a lot of work now is on improving the general freight side because that needs focus," Tobias told Mining Weekly Online.