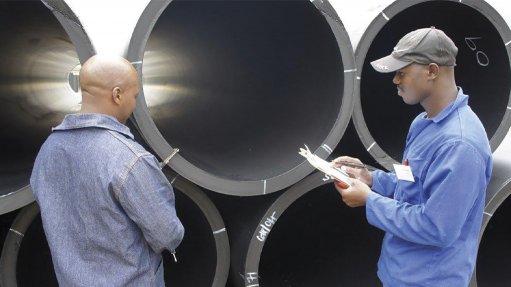 Rare Plastics manufactures and distributes high-hensity polyethylene (HDPE) pipe, fittings and steel backing rings from its factory in Meyerton, Gauteng. Pipes are manufactured to SANS ISO 4427 standards and sizes range from 16mm to 2 000mm. The PE100 raw material is sourced from reputable manu-facturers who comply with SANS ISO 4427 Part 1.
Rare Plastics has recently concluded an exclusive distribution partnership with Taldeen Plastics Solutions, the leading HDPE pipes manufacturer in Saudi Arabia. The partnership gives Rare Plastics access to HDPE pressure pipes and related fittings in sizes up to 2 000mm in diameter.
This relationship also extends to other products such as Spiral HDPE pipes up to 2 400mm in diameter and double wall corrugated HDPE pipes from 100mm to 800mm in diameter. The HDPE pressure pipes are certified in accordance with International Standards including ISO 4427, ISO 4437, WRAS, NSF 61 and are manufactured from the highest-quality virgin raw materials.
This partnership has already resulted in the successful completion of a large diameter HDPE pipe supply project to Kenya. The project involved the supply of just over 600 t of HDPE pipes.
Rare Plastics is currently in the process of completing a supply contract of 600 t of 355mm, 560mm and 280mm pipes and pipe spools to a mining client in Mozambique.
"I believe the new relationship improves our product offering into markets beyond our borders", says Ashin Tasdhary, Sales Director of Rare Plastics.