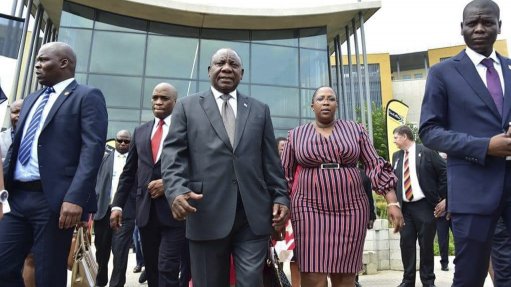 President Cyril Ramaphosa on Friday promised that each province would eventually have its own High Court, giving all citizens access to justice regardless of their social circumstances.
Speaking at the official opening of the Mpumalanga High Court, in Mbombela, he said residents of the province no longer had to travel at "considerable inconvenience and financial hardship" to obtain relief in the Pretoria High Court.
"This court represents a new era for the citizens of this province, who have travelled a long and difficult road to get access to justice.
"As government, we promised that every province in this country will have a fully fledged, well-resourced and capacitated High Court in line with the provisions of the Superior Courts Act. We are here today to fulfill that promise.
"Ours is a society committed to the advancement of human rights, of which the right to equality before the law, to equal protection of the law and benefit of the law, forms a critical part," he said.
He noted that South Africa has, since 1994, prioritised the reform of its justice system to rid it of barriers to access to justice.
"Among these are the costs of obtaining legal representation, linguistic accessibility, as well as accessibility for people with disabilities, lengthy delays and case postponements, backlogs in the court roll and people having to travel long physical distances to reach courtrooms, as has been the case here in Mpumalanga.
"These administrative reforms have been necessary because they have corroded confidence in the judicial system."
He stated that the courts make decisions that affect the liberty, property and dignity of individuals and that it was, therefore, critical that court proceedings had to be accessible and comprehensible to all, "but especially society's most vulnerable".
Ramaphosa pointed out that the Mpumalanga High Court, which started operating in May, had already made an impact.
"Since its first sitting on May 13, it has already finalised a significant number of cases. Between April and the end of September, this court finalised 84% of its reserved judgments."
The High Court, which includes 12 court rooms, will hear appeals or reviews from lower courts falling within its jurisdiction and also manage the province's five circuit courts.
"I am particularly pleased that this High Court will strengthen the work of the Family Advocate's Office, which plays such an important role in advancing children's rights. The legal and forensic skills of family advocates and social workers in mediating matters involving children and their parents and extended families is to be commended," said Ramaphosa.
He added that the court would also play a formative role in ensuring access to justice for survivors of gender-based violence.
"In time to come, this court, together with other courts around the country will be sufficiently resourced to expand the provision of services for women and children that respect their dignity and privacy."