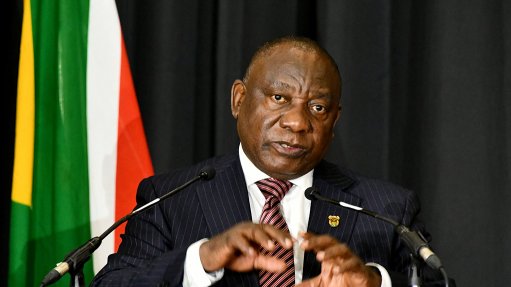 President Cyril Ramaphosa
President Cyril Ramaphosa says South Africa stands ready to be a major exporter of green hydrogen and has described the special economic zone (SEZ) proposed for development at Boegoebaai, in the Northern Cape, as a major step towards realising the country's potential to be a global leader in green hydrogen and derivative products, such as power fuels.
In an address to the second Sustainable Infrastructure Development Symposium, which took place as a hybrid event in Sandton on Thursday, Ramaphosa described green energy more generally as one of the "new frontiers of infrastructure development".
He said green energy had the potential to drive industrialisation and establish a whole new industrial reality.
The President gave special attention, however, to South Africa's potential to use its relatively low-cost renewable electricity to produce green hydrogen and derivatives, which are seen as increasingly critical to decarbonising so-called hard-to-abate sectors and products, such as marine and long-distance land transportation fuels, steel, chemicals, fertilisers and sustainable aviation fuels.
Green hydrogen is produced by using renewable electricity to split water into hydrogen and oxygen, using an electrolyser.
"We stand ready to be a major exporter in this market, to use hydrogen to rapidly decarbonise our existing industries, and attract industrial investment from across the globe seeking to meet new standards of green power in the production process," the President said.
This pointed to a future where "tens of gigawatts of renewable energy feed electrolysers at massive scale to produce hydrogen", as well as the power fuels of the future.
"The Boegoebaai SEZ will host such mass-scale production, but will also source green hydrogen volumes from emerging players such as Mahlako, which is setting up the Prieska Power Reserve, and projects like it across the Northern Cape solar belt."
Ramaphosa made no reference to reports that the nearby Richtersveld community was concerned about a lack of consultation on the proposed hydrogen hub.
He did, however, show sensitivity to the fact that neighbouring Namibia was developing its own green-hydrogen hub on the other side of the border to Boegoebaai, saying that the project could "bring the two countries together".
"It was wonderful, two days ago, when I sat down with President Hage Geingob, of Namibia, and we started talking about this type of project and how this project, in Boegoebaai, is going to bring the two countries together – to get both countries to approach this type of project on a joint basis, so that we work together all developing a project that is going to have enormous industrial benefits for both South Africa and Namibia."
In fact, Namibia's hydrogen-focused Southern Corridor Development Initiative is ahead of the one proposed for Boegoebaai, with an expression of interest process having already closed and with work under way to finalise the launch of competitive bidding.
But the Boegoebaai proposal did receive a boost ahead of Ramaphosa's address with energy and chemicals group Sasol announcing that it had signed an agreement with the Northern Cape Development Agency to lead the feasibility study to explore the potential of the site as an export hub for green hydrogen and ammonia.
The study is expected to take 24 months, with the outcomes to determine the next step of development.
In addition, the Boegoebaai initiative was designated as a Strategic Integrated Project in South Africa's National Infrastructure Plan 2050.
In a statement, Sasol stressed that it was pursuing a number of green hydrogen, ammonia and power-to-X opportunities as part of its new strategy, through which it aims to play a leading role in South Africa's nascent green hydrogen economy.
Ramaphosa also made reference, in his address, to the Hydrogen Valley project, being spearheaded by Anglo American Platinum, Bambili Energy and Engie Energy Services.
The proposed hydrogen valley will start near Mokopane, in Limpopo, where platinum group metals are mined, extend through the industrial and commercial corridor to Johannesburg and end in Durban.
A feasibility study report has identified nine hydrogen-related projects across the mobility, industrial and construction sectors that could be used as a springboard for the establishment of a South African hydrogen valley.
RAMAPHOSA & MANTASHE AT ODDS
Ramaphosa said the priority being given by South Africa to green energy and green hydrogen was enabling the country to move "ahead of the curve" and become more proactive in tackling threats and opportunities posed by climate change.
"The world landscape has changed – if you don't embrace green energy and if you don't respond to the climate change process that's under way in the world, you are left behind.
"And, through this a new world is opening to all of us," Ramaphosa said.
South Africa has deposited an updated Nationally Determined Contribution range of 420- to 350-million tons of carbon dioxide equivalent (Mt CO2-eq) for 2030 with the United Nations Framework Convention on Climate Change, which represents a marked improvement on its 2015 pledge of 614 Mt CO2-eq to 398 Mt CO2-eq.
It is also looking to use the upcoming COP26 climate talks to secure higher commitments from rich countries to support mitigation and adaptation programmes in developing countries and to secure concessional finance for its own transition.
However, the President's statement appeared to be at odds with one made almost simultaneously by Mineral Resources and Energy Minister Gwede Mantashe, who was addressing the Joburg Indaba.
Mantashe, who has previously indicated that it would be "economic suicide" for South Africa to close its coal-fired power stations, noted that China was currently ramping up its imports of coal to avert blackouts.
He also expressed scepticism about plans to raise concessional finance in return for meeting decarbonisation commitments.
Earlier in the week, Eskom CEO Andre de Ruyter said there was "substantial concessional financing available" to enable South Africa to pursue a just energy transition.
Speaking following the visit of climate envoys from France, Germany, the UK, the US and the European Union, De Ruyter said concessional finance could be used to support Eskom in building renewables generation capacity, to repurpose and repower its decommissioning power stations and to expand South Africa's transmission and distribution networks.