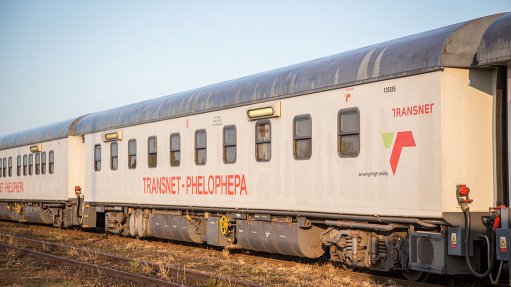 The Phelophepa Healthcare Trains provide health services across South Africa
Seven coaches of the Phelophepa II Healthcare Train derailed near Adelaide, in the Eastern Cape, at about 18:05 on January 19.
State-owned rail operator Transnet's corporate social investment arm Transnet Foundation health portfolio senior manager Shamona Kandia tells Engineering News that the seven derailed coaches – number 13 to 20 – were at the tail end of the train.
The globally recognised healthcare train was traveling towards Mthatha – one of the communities that was scheduled a visit by the train this year.
"We are heartsore," Kandia says.
Transnet said in a statement that initial indications pointed to the derailment being a result of heavy rainfall in the area over the past few weeks, which may have affected the formation of the track.
The current heavy rains across South Africa have had an adverse impact on the rail network across many parts of the country, with parts of the network submerged under water in some provinces.
"We've had flooding across the country. All of our trains are impacted. We've been experiencing delays," Kandia notes.
A comprehensive investigation is under way to establish the cause of this derailment. Kandia confirms that Transnet Freight Rail's Incident Response Team and local law enforcement remain on site.
She says the affected railway section will remain closed until the cause of the derailment can be confirmed and recovery operations can be completed.
No fatalities were reported, but one security guard sustained minor injuries and was treated on the scene by emergency medical services. At the time of the derailment, only a skeleton staff was on board, comprising essential Phelophepa personnel, security and the driver.
Kandia says the minimal damage and injuries can be attributed to the restricted speed of the train, which is forced to travel slowly owing to its status as a "specialist passenger train", carrying staff and sensitive medical equipment on board.
"We think this prevented further catastrophe. It could have been much worse," she says.
The Phelophepa Healthcare Trains comprise two primary healthcare trains that have been providing quality medical services across South Africa for the past 27 years.
Although Phelophepa I remains unaffected and will continue with scheduled services as planned, Kandia explains that it is travelling extremely slowly towards its destination in Empangeni, KwaZulu-Natal, to prevent a similar incident from occurring.
"[The] safety of all involved in the project, as well as our commitment to improve access to quality healthcare for communities, remains our top priority," Transnet said.
The services of the Phelophepa II will be restored once the train is declared safe to resume operations.