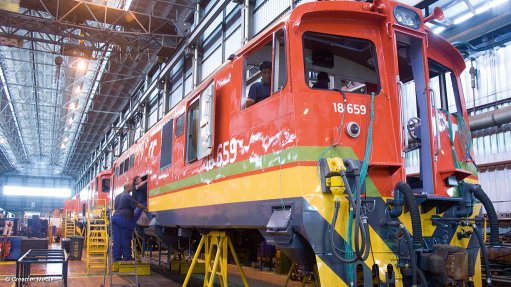 REFIT PROGRAMME About 30 6E1 locomotives will be upgraded to 18E locomotives within this financial year
Photo by: Duane Daws
State-owned logistics company Transnet Freight Rail (TFR) has cleared its fleet backlog with the new locomotives being brought on board and old locomotives having been retired, TFR spokesperson Mike Asefovitz tells Engineering News.
TFR plans to replace some of its ageing stock with 1 400 new locomotives within the next four years.
TFR has a planned capital expenditure (capex) of R209.9-billion from 2015 to 2021 with the TFR investments directed towards the purchase of locomotives and wagons, as well as the expansion of infrastructure, Engineering News reported in July.
These investments form part of Transnet's seven-year R312-billion Market Demand Strategy, in which it will shift its capex focus from maintenance expenditure to expansionary investments in rail and port projects across the country.
Asefovitz notes that it does not make sense to deal with some of the maintenance backlog, when the older rail fleets will be decommissioned soon.
He further notes that TFR's locomotive refit programme has been stopped, with the exception of about 30 6E1 locomotives that will be upgraded to 18E locomotives, to improve the reliability of the locomotives.
Although the mini-overhaul programme of the 18Es will be completed this financial year, Asefovitz notes that there are no locomotive upgrades planned in the next five years.
"As all of the older fleets of locomotives are between 27 years to 40 years of age, it does not make financial sense to refit these locomotives," he adds.
Transnet has an infrastructure maintenance backlog of R30-billion, most of it on signalling systems and rail tracks, with the parastatal needing to spend R13.9-billion on rail tracks and R11.7-billion on signalling systems. It also faces outstanding upkeep of R2.4-billion on rail yards and R907-million on freight rail rolling stock, Engineering News reported last month.
Nevertheless, Asefovitz emphasises that the daily required maintenance and TFR's planned maintenance practices for the fleet and rail will continue.
He adds that TFR's reduction on maintenance expenditure will be relative to the fleet size, as the maintenance cycle of new locomotives is 90 days, while the maintenance cycle of older locomotives is about 45 days.
"This will assist in the savings, but will be offset by the fleet size of about 2 700 locomotives that will eventually be maintained," he says, adding that a saving on unscheduled items will also be achieved, although this cannot be quantified.
Further, TFR in July launched the Transnet wagons refurbishing facility in De Aar, the Northern Cape, which will maintain various types of wagons for TFR operations, while other upgrade projects include the manganese line upgrade to the Port of Ngqura, in the Eastern Cape.
Transnet received approval in May for an investment of R26.6-billion to support a 16-million-tonne-a-year expansion of manganese export capacity from the Northern Cape to a new bulk terminal in the port, Asefovitz notes.
"Specifically, the rail scope of the programme will include the upgrade and expansion of the rail network between the Northern Cape and Coega and the provision of new locomotives and wagons," he says, adding that the port scope includes the provision and equipping of a new, modern bulk minerals export terminal at the Port of Ngqura, as well as the commissioning of two existing berths, C100 and C101.
The rail programme has been divided into two phases, with Phase 1 involving the partial doubling of the rail section between Kimberley and De Aar, as well as an extension of the Rosmead rail loop, in the Eastern Cape.
Execution planning of the rail Phase 2 and port construction programmes is under way, Asefovitz says.
"The project aims to sustainably strengthen South Africa's position as the leading exporter of high grade manganese ore, and will, through the construction programme, stimulate job creation in South Africa by delivering an expected 18 500 direct and 14 000 indirect job opportunities, he concludes.