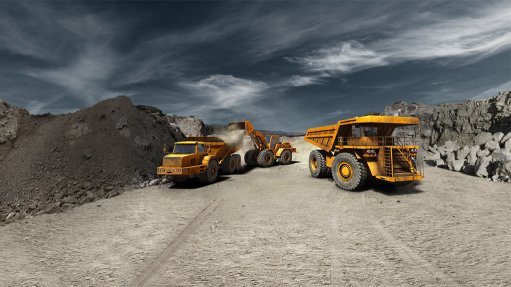 MASTERCLASS The EM-Master tyre is ideally suited for articulated dump trucks, loaders and dozers
Technology company Continental is introducing two additional EM-Master E4/L4 radial tyre sizes to the market, the company indicated in an announcement last month.
"This now completes our range of radial tyres for use on wheel loaders and dump trucks in particular for construction work and mining," says Continental Commercial Speciality Tires (CST) earthmoving product line manager Christian Luther.
He also indicates that the company is collaborating intensively with its customers to further expand its portfolio to meet customers' needs and requirements.
The EM-Master is part of the ContiEarth portfolio, which was developed specifically for the construction sector. The tyre is ideally suited for articulated dump trucks (ADTs), loaders and dozers and is available in two versions, the EM-Master E3/L3 and the EM-Master E4/L4.
The EM-Master E3/L3 has a normal tread depth and wide spacing between the blocks. This makes it the best tyre on soft ground.
In comparison to the EM-Master E3/L3, the EM-Master E4/L4 is ideally suited for hard and stony ground as a result of a greater block size with less spacing between the blocks and a deeper tread depth.
The RDT-Master is also part of the ContiEarth series and was developed for rigid dump trucks (RDTs). Owing to its special deep tread design, the tyre offers high resilience, cut resistance and self-cleaning properties.
The DumperMaster rounds out the radial tyre product range. The tyre has an all-steel radial carcass, which ensures high load capacity with low heat build-up. This makes it ideally suited for transporting ore onto the conveyor belt or directly from mines to the surface on dump trucks. In addition, the tyre is well-suited for tunnel construction.
In terms of available sizes, for the RDT-Master, there is the 18.00R33, 21.00R33 and 24.00R35. For the EM-Master E3/L, there is the 20.5R25, 23.5.R25 and 26.5R25. For the EM-Master E4/L4, there is the 23.5.R25, the 26.5R25 and 29.5R25. Lastly, for the DumperMaster, there is the 26.5R25, 29.5R25 and 35/65R33.
Divisional Growth
In other company news, Continental's division, industrial supplier ContiTech, has invested much into Nyíregyháza, in Hungary, to build on its commitment in the country, the company announced in another statement last month.
Over the past one-and-a-half years, ContiTech has invested about €20-million in its location at Nyíregyháza alone. The plant has built a second rubber mixing line, a new semi-finished production facility (using calendar technology) for air bellows and a production line for hoses destined for heating and cooling applications in cars.
It has also constructed a warehouse for its compounding centre and the construction of a logistics centre is also in progress, which will be used for air springs and hoselines.
The new facilities were officially commissioned on January 23, in the presence of the Foreign Affairs and Trade Deputy Minister Magyar Levente, Nyíregyháza deputy mayor Menyhért Jászai and ContiTech representatives from Germany.
"The Hungarian government has invested over €6-million to support the expansion," says Nyíregyháza plant MD László Jókay. "This has already created more than 200 additional jobs. In total, we now have around 500 employees in Nyíregyháza. Five years ago, it was 220. Over the next two to three years, we expect to create another 250 to 300 jobs once all of the new lines reach full capacity."
ContiTech employs a total of around 5 000 people across its three locations in Hungary. The company is not just investing in Nyíregyháza, but also at the other ContiTech plants in Hungary.
The new logistics centre for the Compounding Centre, which will supply the other Hungarian locations, was commissioned in December. The new mixing line, which was built to satisfy an ever- increasing demand for the company's products, is currently starting its test mode. Hose production has already started, with capacity expected to double by the end of this year. The shared 4 500 m2 warehouse – which will store both hoses and air bellows – is also on course for completion by spring.
Continental develops pioneering technologies and services for sustainable and connected mobility of people and their goods. Founded in 1871, the technology company offers safe, efficient, intelligent and affordable solutions for vehicles, machines, traffic and transport. Last year, Continental generated provisional sales of around €44-billion and currently employs more than 233 000 people in 56 countries.
As a division in the Continental Corporation, ContiTech, as a part of Continental, is one of the world's leading industrial specialists. Its customers come from key sectors such as machine and plant engineering, mining, agriculture and automotive.
The company employs around 46 000 people in 44 countries. It uses its development and materials expertise for products and systems made from rubber, plastic, metal, textiles and electronic components to combine them with custom services.
Further, ContiTech offers functional and design- orientated solutions for living spaces and is always searching for customer-focused and environment-friendly answers – above and beyond its origins as a manufacturer of rubber- based products. The inter- national technology partner achieved sales of around €5.5-billion in 2016.
In South Africa, Continental operates as Continental Tyre South Africa (CTSA). General Tyre South Africa (GTSA) was established in 1947 by national dealer the Williams Hunt Group and tyre manufacturer General Tire. In 1985, Continental AG and GTSA signed an agreement to produce Continental branded tyres in South Africa, and, since 2013, CTSA has been 100% owned by Continental AG.
This is the only Continental Tyre plant in Africa and is based in Port Elizabeth, in the Eastern Cape. The ContiTech division has a number of business units located in South Africa.