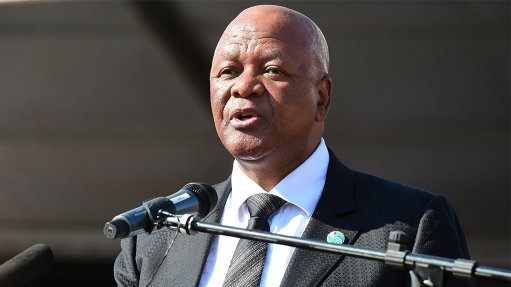 Energy Minister Jeff Radebe
Energy Minister Jeff Radebe signalled his willingness on Tuesday to use his legislative powers to facilitate the introduction of private electricity supply alternatives that could reduce the threat of load-shedding by Eskom in the short- to medium-term.
Addressing the DLO Africa Power Roundtable Conference in Johannesburg, Radebe said he would consider attaching a short-term action plan to the longer-term generation blueprint that would be provided by the updated Integrated Resource Plan (IRP), which is currently under consideration by the social partners at the National Economic Development and Labour Council (Nedlac).
Responding to a question posed by Webber Wentzel partner Pulane Tshabalala Kingston on the prospect of unlocking near-term supply alternatives Radebe said: "As the Minister of Energy, empowered by the Electricity Regulation Act, I will do the necessary to ensure that, where it is possible, we bring these alternatives on board."
He revealed, too, that he had even approached the Independent Power Producer (IPP) Office to seek its guidance on removing obstacles to the development of projects bid in 2015 as part of the so-called 'Expedited Bid Window' of the Renewable Energy Independent Power Producer Procurement Programme.
Officially, the bid window had been cancelled and there was an expectation in the market that a new bid window, governed by new bid documents, would replace it. Potential participants have also indicated that the technical, financial and construction components of the bid would have to be revised in light of changes that had taken place since the projects were first bid.
However, Radebe appeared to open the door to the projects stating: "I have already spoken with the IPP Office, for example, about the expedited round and have asked then to remove any obstacles that still stand in the way so that we can move to closure of those projects."
The Minister said that he would also consider signing deviation orders in instances where self-generation projects where being held up by red tape.
Conco Energy Solutions' Frank Spencer asked whether the Minister would consider signing a Ministerial Determination to enable the small- and medium-sized embedded generation projects currently seeking generation licences from the National Energy Regulator of South Africa to proceed. It is estimated that the regulator has licence applications for projects with a combined capacity of 2 000 MW.
In response, Radebe requested a written motivation, but stressed he would consider such a determination if the projects were able to alleviate the current power crisis.
The Minister was less forthright, however, as to whether the updated IRP would be Gazetted before South Africa's May 8 election.
The document had been revised to incorporate comments received during the 2018 public-participation process and was being currently being canvassed at Nedlac.
"I have been to Nedlac, firstly in September last year to provide them with the draft IRP, which was dubbed the Draft IRP 2018. I went there again on March 5 to highlight to them the progress and to report as to what has happened thus far. The energy subcommittee of Nedlac I think is meeting this week in order to finalise the process before an exco [executive council] of Nedlac convenes. So, in my book, as soon as the Nedlac exco has finished its deliberations I will take it to Cabinet. So it is imminent as far as I'm concerned."
He stressed there would be a major role for IPPs and municipalities in the provision of new generation capacity over the coming years, adding that Eskom alone could not fund the R1-trillion required to meet South Africa's generation, transmission and distribution infrastructure needs to 2030.
"It is a fact that the financing of new power infrastructure has become very challenging given Eskom's current structure. Notwithstanding that the current credit situation remains tight, financial institutions have become increasingly averse to pumping funds into an Eskom that is based on the vertically integrated utility model."
Earlier this year, President Cyril Ramaphosa announced Eskom would be unbundled into separate generation, transmission and distribution entities in line with the policy vision provided by the 1998 Energy White Paper.