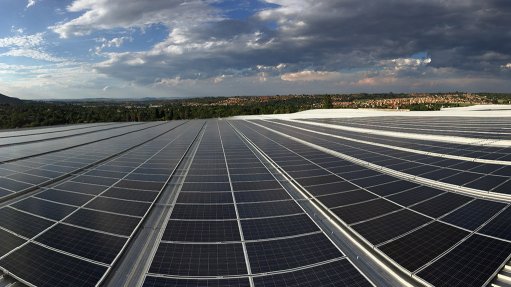 SUSTAINABLE SUPPLY The facility comprises 2 000 solar panels covering a surface area of 4 000 m2 and produces approximately 843 MWh/y
Property group Hyprop Investments in December launched a new solar photovoltaic (PV) system, valued at about R8-million, at the group's Clearwater Mall, in Gauteng.
"Clearwater Mall is the first property of Hyprop to which we applied a solar PV system of this magnitude," comments Hyprop CEO Pieter Prinsloo, noting that the generated power will be used internally to supplement the centre's current consumption.
Johannesburg-based solar energy specialist Solareff provided the turnkey solution, which included design, engineering, installation and service-level agreements.
"This is the biggest project the company has completed for a mall to date," Solareff MD Jaco Botha tells Engineering News, highlighting that the commercial, direct grid-tied system, is a 500 kW peak (kWp) system, comprising 2 000 solar panels, each of 250 W, covering a surface area of 4 000 m2.
The system produces about 843 MWh/y, reducing carbon emissions by about 884 t/y and saving about 1 000 t/y of power-generating coal, Botha adds.
"More importantly, the system reduces the centre's dependence on the grid, while also providing significant financial benefits, including a diesel savings benefit during power outages, which the country currently faces," he points out.
Solareff started installation in September, with startup in early November, Botha says, highlighting that, while installation time amounted to seven weeks, the system was completed ahead of schedule.
The solar PV system, which will generate about 3% of the mall's requirement, forms part of Hyprop's environmental sustainability programme.
"The system will provide renewable energy to meet the mall's growth potential by ensuring a sustainable and consistent energy supply," Prinsloo says, pointing out that Hyprop has also reduced energy use in the mall's common areas through the installation of energy efficient lighting solutions and the introduction of smart metering to monitor energy use.
Prinsloo explains that, as the infrastructure design of the mall incorporated possible solar PV installation, it was cost-effective for the group to implement this type of project. He highlights that the centre is situated in a node where there is a strain on the electricity grid.
Further, Prinsloo
notes that Hyprop will run a three-month test period to determine the operational performance and success of the facility before it explores further expansion phases later this year.
"While the system is designed to perform to certain levels, we have achieved the target, as the system is performing as required," Prinsloo points out.
Another possible Hyprop property at which the company is considering applying solar PV is the Canal Walk, in Cape Town, in the Western Cape. "While such projects depend on infrastructure investment, solar PV can be applied to any of Hyprop's malls," Prinsloo concludes.