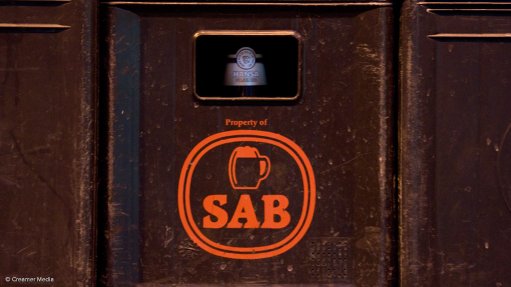 Photo by: Creamer Media
Following a successful employee share scheme that South African Breweries (SAB) had been running since 2010, the beermaker on May 3 officially launched its new broad-based black economic empowerment (BBBEE) scheme – Zenzele Kabili.
The new scheme will be listed on the JSE by the end of May and will own R5.4-billion worth of shares in Belgium-based parent company AnheuserBusch InBev (AB InBev).
The prior Zenzele scheme delivered R14-billion in value to more than 40 000 beneficiaries over the last decade, making it the largest BBBEE scheme in the history of south Africa in the fast-moving consumer goods sector, the beermaker states.
Zenzele had not only given employees a chance to participate in the stock of the company, but also retail partners such as tavern owners, bottle store owners, retailer customers and their employees.
SAB intends for the new scheme to offer the same participation opportunities as Zenzele's 29 000 retailer shareholders and 13 000 current and former SAB employees.
Shareholders who invested R100 at the prior scheme's inception will receive a R77 518 pre-tax payout when it unwinds this month.
Some retailer shareholders during a launch briefing hosted on May 3 commented that the dividend payouts from the scheme during last year had helped to weather lockdown challenges when the alcohol sales ban was instated.
Zenzele chairperson Dr Penuell Maduna said in a statement in April that Zenzele Kabili would allow shareholders who reinvest, receive 25% in annual dividends and not have to wait for a payout after ten years.
Maduna said what has made the Zenzele scheme so successful was its expanded beneficiary base, by including participation of licenced retailers, who were never necessarily participants in investment schemes.
He added that these types of schemes build generational wealth for formerly disadvantaged South Africans, which contributes to equality in the country.
AB InBev finance, legal and corporate affairs VP for Africa Richard Rivett-Carnac explained during the briefing that the SAB Foundation would also be a beneficiary of the scheme.
The SAB Foundation is a trust that benefits local communities.
Rivett-Carnac said the company had performed so well with returns on the scheme thanks to hard work from valued retailers and employees. "We are repeating that kind of magic."
SAB company secretary Duncan Pask said the JSE listing of the new scheme would ensure that value could be tracked and beneficiaries could have transparency from the start.
He added that the initial listing price of a Zenzele Kabili share would be R40 apiece and would be open up to qualifying members of the public, in terms of the BBBEE Act, in due course.
Before the listing can occur, SAB is hosting a shareholder scheme meeting on May 10, during which retail shareholders will vote on the launch of the new scheme.
A mobile application for Zenzele Kabili has been created to provide more information on the scheme and for existing shareholders of Zenzele to vote, while participants to the scheme once it is launched can use various platforms for trading, including calling a dedicated Zenzele Kabili SAB hotline, banks or brokers.
Responding to how Zenzele Kabili shares differ from a pure AB InBev shares, Rivett-Carnac explained that AB InBev shares did not have vendor funding attached to it, while the Kabili scheme was listing as an empowerment scheme and had vendor funding attached to it.
The vendor funding allows for more accessibility to the scheme through lower listing prices.
He added that the main difference between the Zenzele and Zenzele Kabili scheme related to the underlying asset.
"Where Zenzele involved ownership of SAB shares, Zenzele Kabili shares involve ownership of the global AB InBev group shares. Because the new scheme's asset will be publicly traded, it provides for liquidity for the participants."
The R5.4-billion SAB Zenzele Kabili transaction will be funded through a combination of R678-million equity contribution from existing SAB Zenzele shareholders, a R600-million equity contribution from a new BBBEE employee share ownership scheme funded by SAB, R344-million of reinvestment by the SAB Foundation, R811-million of AB InBev discounted shares from SAB and almost R3-billion in ten-year preference share vendor funding from SAB.