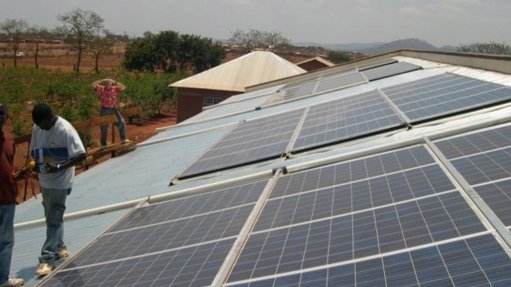 CIS TECHNOLOGY Japanese-manufactured copper, indium and selenium (CIS) solar photovoltaic technology supplied by Sinetech
The publication of Small-Scale Embedded Generators (SSEG) national standards for grid-tied systems is more than 12 months overdue, which is a noteworthy delay because of how crucial they are to advancing safe and cost-effective solar energy practices in South Africa, says advanced power product supplier Sinetech COO Chris Rodgers.
The Department of Energy and the National Energy Regulator of South Africa (Nersa) are defining these standards, which will follow on the Electricity Regulation Act of 2006. The Act prohibits any small-scale embedded generators – such as photovoltaic (PV) solar panels with inverters – from connecting to the national electricity grid without a licence from Nersa.
Rodgers points out that the delay in publishing the standards for the sake of diligence can perhaps be excused because of the possible dire consequences that could result if any substandard equipment were to be connected to the grid. These consequences include a disruption of the electricity grid nationally, and injury to or death of utility technical personnel performing maintenance on the grid.
Significantly, these standards will define the tariffs that will be paid to individuals for the power they can add to the grid that is generated from their private solar power generating systems.
"The real attraction of being grid-tied is that, effectively, you use the national grid as an energy storage device rather than having a bank of batteries to store power generated by your solar panels during the day," Rodgers explains.
He highlights that, currently, there is no revenue recovery mechanism in place, thus any excess power that individual generators put back into the grid is simply absorbed, with no benefit to the producer.
The safety and cost effectiveness that the new standards will facilitate are imperative as, despite President Jacob Zuma's announcement in May that load-shedding has come to an end in South Africa, Rodgers maintains that it is important that South Africans make plans to prepare to supply their own energy and limit their reliance on the national grid.
He says State-owned power utility Eskom's ability to provide reliable and affordable electricity is still compromised, and points out that the absence of load-shedding is more likely to be the result of a massive drop in demand from the mining and manufacturing sectors than to the success of Eskom's turnaround plan.
Rodgers moreover points out that, while load-shedding might have been declared officially over, power outages are still a daily reality in South Africa, which he attributes largely to poor maintenance practices.
"It is inevitable that any power utility in the world will have a maintenance backlog, usually as a result of budgetary and human resource constraints. "However, in South Africa, the backlog expressed in monetary terms in 2008 was R27.4-billion and this has grown to R68-billion in 2016," he says.
He further highlights that, in the same timeframe, Eskom's electricity production has decreased by about 9% and its price for every kilowatt hour has increased by 152%. He points out that the supply-demand balance of electricity, coupled with its price, suggests a luxury commodity rather than a basic utility.
"It is clear . . . that we have an electricity volume problem and . . . ever-burgeoning increases in electricity pricing. "Therefore, we need to explore ways of mitigating power outages and reducing monthly electricity bills. Both of these requirements can be met with a standalone PV solar system."
He explains that, while it might be tempting for those who can afford to attempt to go off-grid completely, it is a complex process. Instead, he advocates that the sensible approach is a solution that is designed for self-consumption, independent of the grid, but with all the necessary regulatory approvals and technical scalability for grid-tie and feed-in at a later stage. In line with this, Sinetech offers standalone backup systems comprising an inverter and battery bank or a standalone PV solar system.
"Unlike fossil fuels, solar does not have a peak limit and is not a limited resource. With ubiquity comes price contraction and, in turn, wider acceptance resulting in further funding for research and development and thus greater performance from solar panels," Rodgers concludes.