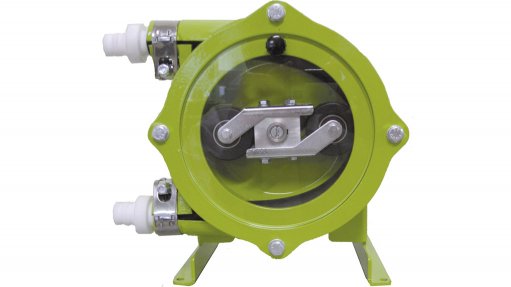 OPPORTUNITY FOR GROWTH Pumps manufactured to operate in the general industry proves to be more advantageous
With substantial developments under way within the pumps industry, magnetic drive pumps manufacturer and supplier Brubin Pumps, which forms part of pumping requirements solutions provider Letaba Pumps, showcased the Brubin BA Cleaning in Process (CIP) hose pump at Electra Mining Africa 2016 earlier this month.

Brubin GM Hannes Liebenberg comments that, so far, the international success of this pump design has seen over €1-million being secured in investment.
He highlights that the pump can be used in general industry, as well as the mining industry, for in-process cleaning.
Liebenberg notes that these pumps use a collapsible shoe technology, which opens the hose for in-process cleaning.

"Pumping action is achieved by compression of a circular loop of elastomeric hose with two diametrically opposed rotating shoes," he illustrates.
Liebenberg mentions that the rotational motion forces fluid in the hose to move ahead of each shoe. When each shoe reaches the end of the loop, the reinforced tube immediately returns to its immediate shape, thereby ensuring suction and priming.
Moreover, he asserts that the pump housing is partially filled with lubricant, aiding in smooth running of the shoes on the hose. "Because the inside of the hose and inserts are the only parts in contact with fluid, aggressive and contaminated fluids can be pumped. With the CIP technology, these fluids can be successfully flushed," he explains.

Additionally, he points out that, the moment the shoes are reversed, they collapse, which opens up the entire hose. The hose stays in that position until it is reset.
Liebenberg explains that by opening the hose completely, air or water can pass through easily, making the hose easy to clean.

"On a standard pump, users would have to open the unit completely for cleaning, which takes about eight hours on a large pump. This new design saves time, since users do not need to open up, pull apart, or drain the pump as with the standard hose pump design.

Further, he asserts that despite this, some people have suggested that this concept presents difficulties because there are too many moving parts. However, this is not the case, says Liebenberg, as this pump is purely for peristaltic purposes.

Meanwhile, another innovation from Brubin that was showcased at Electra Mining was the Brubin Magnetic Drive Pumps (Mag Drives), which are the future of chemical pumping," says Letaba Pumps MD John Vass, who highlights the importance of this innovation within the global green movement, as well as its place at Electra Mining.
"Our Brubin Mag Drives are being supplied to the likes of State-owned corporation Denel and international integrated chemicals and energy company Sasol because of their reliability and international support," says Liebenberg.

The Brubin range of Mag Drives is built in South Africa and already has a footprint in the industry.
"I believe these represent the future of pumping when it comes to clear acids. In the US, over 50% of clear acid applications use Mag Drives," comments Vass.
He relays that, despite this, some industry players do not seem to appreciate the environmental issues faced with leakages, concluding that it is worth considering that drives do not use mechanical seals or gland packing and there is no danger of a leak.