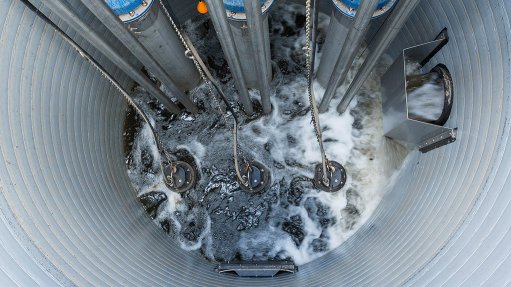 COMPLETE SOLUTION The Grundfos PS.R complete pumping station with tanks, pumps and controls
Although not many realise it, South Africa is an arid country and there is a pressing need to address water scarcity, which is why pump manufacturer Grundfos places such emphasis on energy efficiency and addressing water leakages in pumping systems, says team leader Andrew Brunette.
He laments that, owing to leakages in piping, damages or even illegal connections, about 30% of pumped water from treatment plants to communities is lost.
Exacerbating the water scarcity issue is the continued deterioration of wastewater plants and wastewater treatment plants, Brunette says, noting that South Africa has about 430 wastewater treatment plants, though of this number, only about 30% of them are running at their designed capacity.
When treatment plants are not running up to capacity, untreated wastewater is pumped back into the rivers, adding to the pollution. Not only that, but treatment plants then have to deal with additional pollution when the water is going through the system again, Brunette says.
This is where Grundfos' service level agreements (SLAs) come into play, with the company servicing pumps and equipment to ensure proper treatment of wastewater.
"This is where we can help the municipalities and the communities with keeping these wastewater treatment plants up to standard," says Brunette.
While the SLA offering currently takes place in the private sector only, Brunette tells Engineering News that the company is aiming to extend this offer to municipalities. Currently, many municipalities are responsible for their own servicing and maintenance, and this presents challenges in terms of available resources and skills.
Depending on the pump type and size, services take place every six months, or every twelve months, Brunette points out.
In addition to water scarcity challenges, he says there is also the need to reduce energy consumption, which can be done by using more efficient solutions, as well as looking at alternative energy solutions.
Water-pump systems account for between 10% and 20% of the world's electrical energy consumption; however, switching to energy efficient pumps can save up to 50% of that energy – and the more municipalities save on energy, the more they are able to deliver in other areas and help to grow the economy.
In this regard, Brunette encourages the use of variable-speed drives (VSDs) in pumping stations as a system for controlling the rotational speed of an alternating current electric motor.
This automatic frequency control is used in pump applications where the flow is matched either to volume or pressure, and the pump adjusts its revolutions to a given setpoint through a regulating loop. Through adjusting the flow or pressure to the actual demand, the VSD reduces power consumption.
However, the pumping selection also plays a key role as it impacts on the efficiency and reliability of the pumping requirements.
Brunette punts the use of premium high-efficiency (IE3) motors instead of standard efficiency units in the wastewater pump segment, while clean water pumps could go as high as IE5.
Another option to consider, he notes, is the use of solar-powered pumps, which use photovoltaic (PV) cells that generate enough electricity to power an electric motor, which then drives the wet-end of the pump. The solar-powered pumps have no harmful effect on the environment, as no electricity is needed to run them.
While currently not a common route for wastewater treatment plants to follow yet, Grundfos has, nonetheless, continued designing equipment to allow wastewater pumps to run up to 250 kW on solar panels.
"Solar pumping has been used in boreholes for many years, that's where they're quite intensive, but in wastewater, and the way [the country's] energy problem is going, using solar power in wastewater must become more common," Brunette urges.
While loadshedding does not always affect larger pumping stations, he laments the effect on smaller stations, which could, if left with no power for long enough, result in sewerage spills.
Meanwhile, another option combines the use of solar power and electricity and is called PowerBlend.
Launched earlier this year, Brunette explains that, when applied, the pump will use as much solar power as possible and will only draw electricity from the main grid supply when there is either not enough solar energy to power the station, or when it is evening.