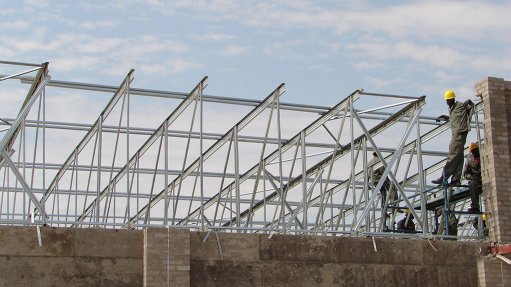 HOME-MADE The Southern African Institute of Steel Construction is lobbying for the protection of locally produced fabricated structural steel
Local designation is industry's most effective tool when protecting the local steel construction industry against imported fabricated structural steel, says steel construction industry body the Southern African Institute of Steel Construction (Saisc).
Saisc industry development executive Kobus de Beer tells Engineering News that the Department of Trade and Industry's (DTI's) promotion of local designation in the upscaled Industrial Policy Action Plan (Ipap), launched last year, is good news for the industry.
"For two years, we have been proposing to the DTI that it consider designating fabricated structural steel so that government departments and parastatals are obliged to buy and use locally produced steel," he says.
The principal objective of Ipap is to achieve structural change by encouraging the development, growth and increased competitiveness of the South African manufacturing sector.
Recommendations
De Beer tells Engineering News that Saisc made three recommendations to Trade and Industry Minister Dr Rob Davies in June during a meeting with him at the Team Exports South Africa (Tesa) export workshop held in Pretoria.
Firstly, Saisc suggested that, if a company imports a designated product, such as fabricated structural steel, it should be required to do so under the proper Harmonised Commodity Description and Coding System (HS Code) so that it can pay a 15% import duty. This will also enable the South African Revenue Service to capture the product correctly, statistically, adds De Beer.
The HS Code is an internationally standardised system of names and numbers to classify traded products.
Secondly, Saisc recommended that the DTI create an ombudsman, responsible for designation, to adjudicate in trading matters that have to do with designation.
Thirdly, the industry body recommended that the DTI embark on a roadshow for buyers, especially government departments and parastatals, to promote buying and using locally fabricated structural steel, says De Beer.
"The department should educate government representatives and parastatals on what designation means and what its benefits are. Further, they should be made aware that they will not regret buying and using locally produced fabricated structural steel, as the quality is right and the prices are cheaper. Further, local jobs will not only be preserved but more will also be created," he explains.
Meanwhile, the Tesa export workshop, which was themed Export-driven Economic Growth and Industrialisation in South Africa, was a three-day conference organised by the DTI. De Beer says the conference was meant to coordinate South African companies' export efforts and to receive input from companies on how their position in the industry could be improved.
"The recommendations were received well," he says, adding that Saisc plans to follow up with a formal letter to strengthen its request and that there is "a very good chance" that the DTI will take heed of these suggestions.