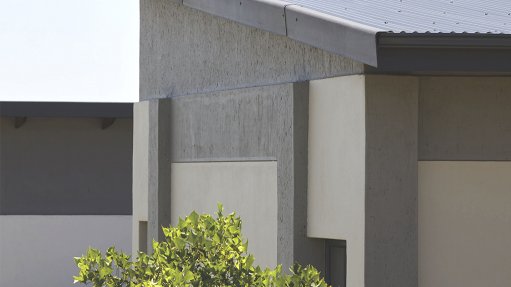 Plascon has released a new textured paint for exterior walls
Walls naturally expand and contract, which can result in cracked and peeling paint and protecting the exterior walls of a building can be especially difficult in harsh South African weather conditions.
A newly released textured paint for exterior walls is said to exceed other products in durability and appearance. Plascon's TradePro BarrierTEX uses its MicroFlex technology, to enhance flexibility and manage environmental stresses. Less flexible products have been shown to result in a more brittle coating, which can crack and peels more quickly.
The product is designed to achieve a longer-lasting textured effect and is suited for residential consumers and professional contractors.
The Plascon TradePro BarrierTEX has been created specifically to address the the micro movements of walls. The exterior coating has a textured finish which also hides plaster imperfections and aims to provide a high quality, reliable and long-lasting coating that helps to ensure exterior walls remain crack-free for longer, with a reduced rate of peeling.
The product is available in 12 colours, from the lighter hues of Karoo Clay (UBT 004), Glazed Cement (UBT 008), Northern Sand (UBT 006) and Tan Leather (UBT 010) to darker colour options such as Dark Knight (UBT 005), Thrashed Wheat (UBT 007), Sprinkle (UBT 009) and Wild Nut (UBT 011).
Two tint bases are available, a pastel and deep shade and the textured range now also offers a 1-litre pack to allow for colour sampling and touch-ups.