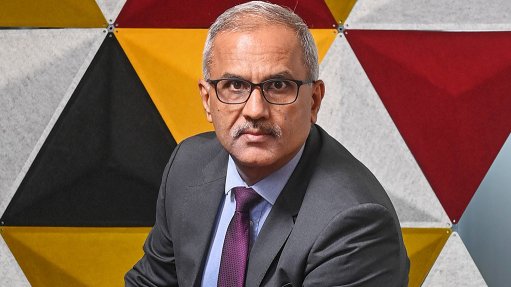 Project Management Institute MD for Europe and Sub-Saharan Africa Ashwini Bakshi
The value of project-oriented economic activity over the next decade is likely to reach $20-trillion, says nonprofit organisation Project Management Institute (PMI).
The company's 'Talent Gap' report predicts that the number of jobs requiring project management-oriented skills, from economic growth to retirement rates, will create the global need for 25-million new project professionals by 2030.
This, MD for Europe and sub-Saharan Africa Ashwini Bakshi explains, means that 2.3-million project managers will need to fill project management-oriented roles every year to keep up with demand. However, the shortage of talent may pose a considerable risk to organisations as they rely on project teams to implement strategic initiatives on time and on budget.
While this will be a "big challenge", PMI does not believe it is impossible.
"[Training] two-and-a-half-million project managers globally isn't a small task. But we think we can make a significant impact by starting early, like at university level," Bakshi says.
PMI, in this case, offers certification and training for people at university level so that they enter the workforce "already speaking the language of project management". The company also provides classical and more rigorous certification and training for project management professionals.
"We also feel that the nature of work in the modern organisation requires everybody to speak the language of project management, we call them accidental project managers, so you don't have to have the word project in your title to be doing project work or to acquire project management skills," Bakshi tells Engineering News.
As such, even someone in accounting or human resources will be able to take PMI's course, which Bakshi says will allow them to "get the basics of classical project management".
PMI believes it will be a combination of these flexible and diverse methodologies that will aid the speed with which project management capability develops in Africa and globally.
During this decade, sub-Saharan Africa will witness a 40% growth in project management-oriented employment opportunities. To take advantage of the new project economy, in part fueled by global commitments and efforts to spur economic growth, companies will need a new approach to project management.
However, research done by PMI has shown that a large and complex project's success is often determined at the setup stage, owing to the project's inherent complexity and scale.
Currently, about 65% of projects undertaken worldwide are unsuccessful.
Locally, in South Africa, Bakshi says complex projects in energy, mining and infrastructure for example will benefit from skills development in the project management space.
South Africa recently walked away with commitments of about $8.5-billion in financing at the recent COP26 Summit, to help the country install more clean energy, while accelerating the country's transition away from coal power and to cushion the blow for workers who may be affected by the shift.
While South Africa, which relies heavily on coal, has pledged to reduce its overall carbon dioxide (CO2) emissions between now and 2030 as part of global efforts to tackle climate change, Bakshi says the country "faces enormous obstacles in doing so".
In conversation with Engineering News, Bakshi explains that to mitigate these challenges, organisational agility needs to be built into these projects.
"We're talking about specific adaptability scales or complex problem-solving skills or being able to choose your way of working depending on what is unfolding in your project. This means that you need, at minimum, a front-loading set of conditions which set you up for success, but you also need to build an enterprise agility during the course of the project, which lets you adapt and react quickly," he elaborates.
Because projects globally all face some kind of obstacles in the delivery process, "project management skills will be in demand especially over the next decade as countries invest in recovery", Bakshi stresses, adding that a critical element will be that of stakeholder communication and commitment.
"These issues are increasingly in focus because to get anything large accomplished these days, you have to talk to multiple organisations, individuals, governments, regulators, funding bodies, your own product teams and more," he says.
In addition, he highlights that the rise of the project economy will also be dependent on how project managers choose to deal with challenging situations, such as the Covid-19 pandemic, which forced many to work from home.
"Large changes such as this mean that the nature of the work itself must change when you cannot be with your team, and you need to work remotely or in a hybrid model. You need that much more of a sharper focus on the outcomes, and you need to make sure that you're really focused on creating impact."
Bakshi highlights artificial intelligence (AI) as a rising trend within the physical and psychological infrastructure of projects.
As such, companies will need a new approach to project management and a great recipe for skills development.
Bakshi explains that successful organisations, otherwise known as adaptive organisations, often succeed because they are able to combine two seemingly diverse characteristics or traits.
This means that these companies often retain the capability to "pivot and flex" while still having certain critical elements of processes in place.
According to PMI's 'Beyond Agility' report, organisations with a sharp focus on enterprise agility often focus on a very systematic approach to risk management, and while the risks remain, the differential is that they are "less severe" through the organisation managing risks explicitly.
"They have risk mitigation plans, they're constantly scanning the project environment for things which might affect you adversely, and they have the scenario planning and so on and so forth. But overall, they will adapt to scale the organisation," he elaborates.